Bands and Brews Itinerary
DAY ONE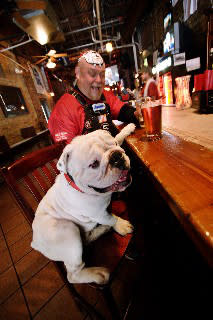 Download the Athens Music Walking Tour or pick up a copy at the Athens Welcome Center. Then discover some of the most significant spots in Athens' rich musical heritage on the 28-stop self-guided tour.
 
Have a hearty lunch of soul food at Weaver D's Fine Foods, the inspiration for the title of R.E.M.'s 1992 release Automatic for the People.
 
After an afternoon of walking the rest of the tour, you'll be ready for a nice hand-crafted beer. Tour the NEW Terrapin Brewery to see how gold medal-winning beers are created. Tours and tastings are every Thursday, Friday and Saturday from 5:30 - 7:30 p.m., most with live music also on tap! 265 Newton Bridge Rd., 888-557-BEER. http://www.terrapinbeer.com/.
 
Pick up a free copy of a Flagpole magazine on your way in to Copper Creek Brewing Company; over dinner and another glass of brew start perusing the "A is playing at B on C" section to select your evening entertainment.
 
Or, head to The Melting Point for dinner and drinks before catching one of their early (8-ish) shows.
 
You might catch a national touring act or a large regional draw at the 40 Watt Club, Georgia Theatre, and The Melting Point, or local singer-songwriter or underground upstart band at clubs like Tasty World or the Caledonia Lounge. You'll find an amazing array of venues and musical acts on any given day.
DAY TWO
Start the day off right with a hearty breakfast at The Grit or The Grill, two local favorites for musicians and fans alike.
 
Spend the rest of the day browsing for that rare recording at Athens' unique downtown local music stores like Wuxtry and Schoolkids Records. While you're at Wuxtry, head next door to check out the music memorabilia on the walls of OK Coffee.
 
Maybe you've been inspired to start your own band? Pick up your new instrument at Musicians Warehouse or Chick Piano and your funky wardrobe at Junkman's Daughter's Brother.
 
Pub Crawl recommendations from ClassicCityBrew.com.
GET INSPIRED 
Indie-Town: Athens Athens, GA From indie-rock to vegetarian barbeque to DIY artists of every type, Athens, Georgia, has the alternative vibe. Filmmaker Tim Nackashi.