Civil War Heartland Leaders Trails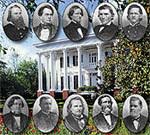 The nine-county area in Northeast Georgia that surrounds Athens combines both the drama of Civil War battle and the real lives and legacies of the leaders and common people who lived during this turbulent period of our nation's history. Athens is home to two-dozen of the 45 significant sites on the Trails. Visit them as part of your stay in Athens, or take a day trip to the sites in surrounding counties.  Discover a new way to experience the American Civil War!
Stoneman's Raid Trail:  With the exception of Virginia, no state witnessed more military action than Georgia. Relive this exiting "cat-and-mouse" tale that culminated in a stunning capture of federal troops that were paraded on the University of Georgia campus. 

Leaders, Life, and Legacy Trail: Learn about the many Confederate leaders who hailed from this relatively small region.
Learn more at the Civil War Heartland Leaders Trails website, or pick up the driving tour brochure at the Athens Welcome Center.
Students at UGA's New Media Institute have developed an online guide and mobile app for smartphones of many of the Athens Civil War sites, which can be accessed here.

 Civil War Sesquicentennial