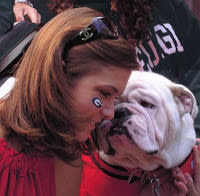 Over the weekend, I had the pleasure of meeting one of Athens' most famous local celebrities. I know what you're thinking… Matthew Stafford, Knowshon Moreno, Corey Smith… no, I got to meet Uga VII.
I was tailgating on North Campus with friends and family when a woman came over to us and asked if we had met Uga yet – I'm pretty sure our response was more enthusiastic than it would have been if she had walked over and said Britney Spears was tailgating at the next tent.
We've all watched the new Uga strutting around on the field and relaxing in his air-conditioned dog house during the games, but Saturday he was driven around on a golf cart to the popular tailgating sites to meet the fans before the game. It might have been the highlight of my college career.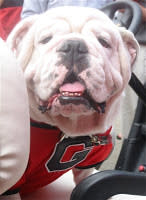 In the past 100 years of college football, Georgia's Uga has become the nation's most well-known mascot. The Frank W. "Sonny" Seiler family of Savannah, Ga., has owned the famous line of pure white English bulldogs that dates back to Uga I being first introduced to campus in 1956. Perhaps the most famous of the mascots was Uga V, who made appearances in the movie "Midnight in the Garden of Good and Evil," and was featured on the cover of Sports Illustrated.

Sadly, Uga VI (the winningest mascot in school history) passed away over the summer, ending his career with a record of 87-27. He was the biggest of the Ugas at over 60 pounds – 15 pounds heavier than his father was.

The current Uga, the seventh in the line of Georgia mascots, was introduced to Georgia fans on August 30, 2008, during pre-game ceremonies of the season opener against Georgia Southern.