Feel the vibrant music vibes this summer in Athens, Georgia! Music can be found anywhere, whether it's a one-night show at the Georgia Theatre or a multi-day extravaganza like AthFest. However, to fully experience the Athens music scene there are some lesser known and local favorite events that you can't miss—one in particular is the Sunflower Concert Series.
The Sunflower Concert Series is a yearly outdoor music concert series held at the State Botanical Garden of Georgia. This series runs throughout the summer and is held in the beautiful Flower Garden. The Sunflower Series has placed both world-renowned and new-on-the-scene musicians in a world-class botanical environment. With a wide variety of music, ranging from folk all the way to jazz, fans love to spread out in the greenery of the beautiful garden, enjoy the smell of the blooming flowers, and float away to all of the music that surrounds them. To find out more about this event, I spoke with Williams Tonks, who founded and stablished the Sunflower Concert Series in 2001.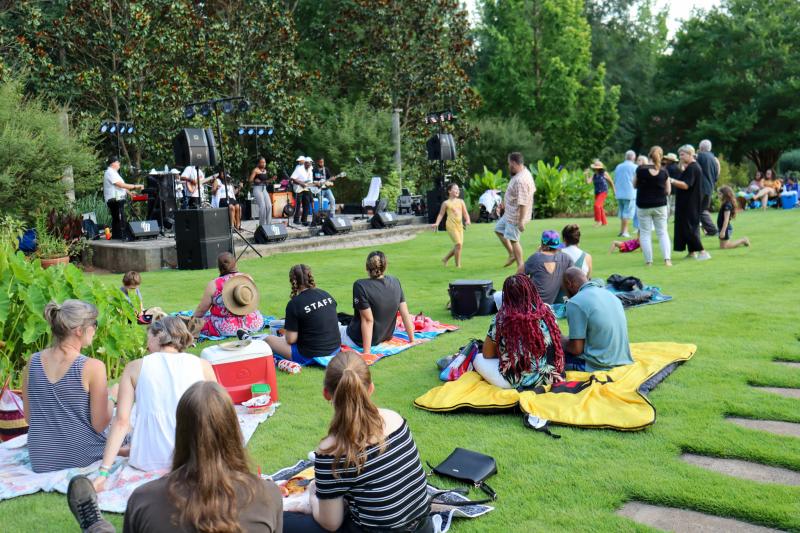 Why a concert set in the Garden? The Sunflower Series was designed as a way to bring some of the original music for which Athens is internationally known to Garden lovers, and a chance for music lovers to have a concert experience in a Garden setting. 
What kind of music genres can event-goers expect to hear? Usually Americana-oriented, original music producing artists, with occasional forays into jazz, world music and Klezmer music.
Who are some of the featured artists this season? The Sunflower Concert Series 2023 season kicks off with Abbey Road LIVE on June 13. Followed by The Original Splitz Band on July 18, Elf Power on August 29, and Randall Bramblett Band on September 26. 
Since 2002, Abbey Road LIVE! has been rocking the music of the Beatles. Initially a tribute to the "Abbey Road" album, the band has expanded its scope to include nearly 150 Beatles tunes, from all eras of the Fab Four's career. The band specializes in complete, start-to-finish album performances of masterpieces such as"Abbey Road," "Magical Mystery Tour," "Rubber Soul," "Revolver" and "Sgt. Pepper's Lonely Heart's Club Band."
The Original Splitz Band is described as, "A mixed drink of the classic Motown sound, part 1970's funk and disco flavor, a dash of the old-school and contemporary R & B, and a guaranteed good time!"
Elf Power is an American indie-rock band that originated in Athens, Georgia. The group's most recent album, "Artificial Countrysides" was released in 2022.
Randall Bramblett, a Jesup, Ga. native, may be known as Southern Rock Royalty for playing on stage with rock heroes like Bonnie Raitt, The Allman Brothers Band, Steve Winwood and Widespread Panic. Respected for his songwriting, he penned the title track for the Grammy-nominated Blind Boys of Alabama's new album, adding to a long catalog of songs covered by Raitt, Gregg Allman, Bonnie Bramlett, Hot Tuna, Delbert McClinton and more. But it's Bramblett's own career as frontman, creating 12 albums, where his artistry is on full display. "One of the South's most lyrical and literate songwriters."  Rolling Stone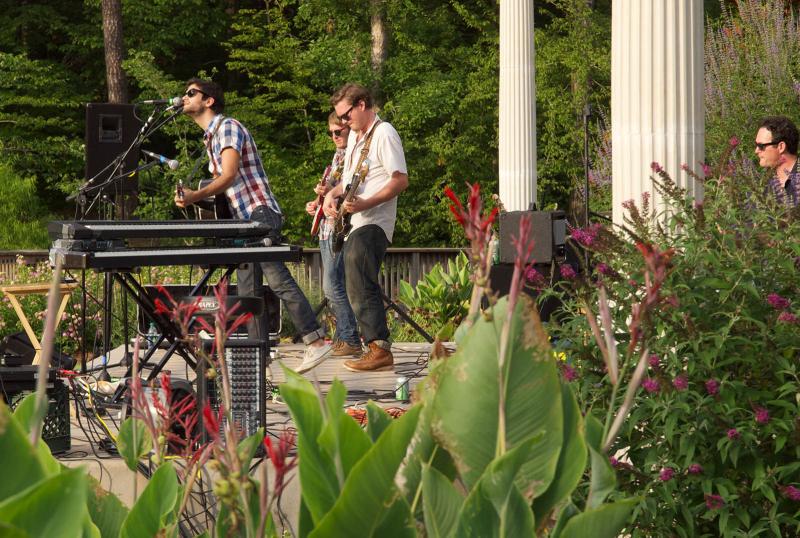 When are the concerts held? The concerts are held monthly from June to September, always on a Tuesday from 7-9 pm, at the Flower Garden of the State Botanical Garden of Georgia.
How much is a season ticket? Individual concert tickets can be purchased for $17 each, $15 for members of Friends of the Garden, $5 for children ages 4-13, and free for children under 4.
What is your favorite part of the event? Strolling in the display gardens with music wafting through the air. 
As people prepare to come for the event, do you have any insider tips for concert goers to get the most out of their experience? Bring a blanket and whatever picnic supplies you want. The Garden provides beverages as part of the ticket price. Lawn chairs are allowed on the uppermost of the three tiers of grass in the Flower Garden.
The Sunflower Concert Series begins in June and runs through September. For more information and ticket purchasing, visit this link here. 
Looking for a summer getaway? The Sunflower Music series is just one of the fabulous music events that Athens, Georgia has to offer. Explore some more of our wide-ranging musical events and festivals, and start booking your summer trip today! We'd love to have you here in The Classic City!
This blog was updated for 2023 by Isabella Martinez.