First in a series of Valentine's Day ideas in Athens, Georgia!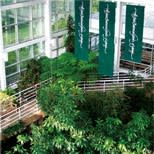 To me, the conservatory at the
State Botanical Garden of Georgia
is the most romantic spot in town. In his most romantic gesture -- perhaps ever -- my now-husband drove to the Garden on our first Valentine's date. Valentine's was on a Saturday that year, and vendors were in the midst of setting up for a wedding reception. We'd been dating less than six months, so marriage hadn't crossed our minds. From the first moment we ducked into the conservatory, this uber-practical girl who'd never daydreamed about weddings was convinced. This was going to be my reception spot. Three and a half years later, the
State Botanical Garden of Georgia
was the center of my Athens wedding!
Long story short, I can think of no better place to spend Valentine's Day. Better yet, no one will have to be a wedding crasher to be in the Garden's conservatory this year!
Check out what the Garden has planned for Valentine's 2012:
Andrew Pearson of
Dondero's Kitchen
, has created a special menu for this distinctive atmosphere.
A buffet menu includes appetizers and a salad, plus sautéed shrimp, pork tenderloin medallions, stuffed chicken breast, side dishes and an assortment of rich desserts. In addition to dinner, couples will be serenaded by live music and can stroll through the gardens, a charming quilt exhibit in the visitor center, and the garden gift shop.
Guests are invited to bring their own wine to enjoy with dinner. Seating will be at 6:30 p.m. on Tuesday, February 14, 2012. Call 706-542-6359 or 706-389-7955 to make reservations or for more information.
For $70 per couple or $40 per person (add $10 per person if reservations are made after February 10th) guests can enjoy broad selection of appetizers, entrees, and desserts.

Appetizers:
Vegetable stuffed Vol au Vents
Amaranth Blinis w/ Honey Cream Cheese & Smoked Grapes
Prosciutto & Fig Rolls

Salad:
Spinach and roasted beet salad with goat cheese and raspberry vinaigrette

Mains:
French –Tropical shrimp sautéed with hearts of palm and cognac
Port tenderloin medallions braised with cherries
Mushroom Stuffed Chicken Breast
Roasted Butternut Squash Strudel
Leek & Potato Gratin
Moroccan Spiced Quinoa Stuffed Portabellas & Zucchinis
Fruit & Nut Biryani
Dinner rolls

Dessert:
Red Velvet Cake
Chocolate Covered Strawberries
Chocolate Éclairs
Mini Seasonal Fruit Tarts
Chocolate Truffle Heart Pies
Raspberry Mousse
Beverages:
Coffee, Tea
Guests are invited to bring their own bottle of wine to enjoy with dinner.
Make plans now to bring your sweetheart to the State Botanical Garden of Georgia this Valentine's Day!
Tell us about YOUR favorite romantic spot in Athens! We're listening!