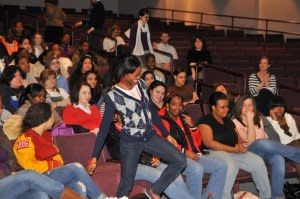 As we all know, one of biggest contributors to poverty is a lack of education. However, as one group of University students are proving, making scholarship information available to students is an effective way to produce change.

Athens College Track, a partner of College Bound Aid, was created to inform students and parents about the financial issues involved in education post-high school.

Earlier this week, Athens College Track sponsored

The College Track Game

, a life-sized board game designed to teach students about the importance of saving for college. Two weeks before the event (which was hosted by Clarke Central High School), students competed in an essay contest, answering the question,

"Why do you think college students graduate with debt? How can you start early to avoid this situation?"



The top three essay candidates competed in

The College Track Game

, which was modeled after the game of LIFE and taught students how to prepare for college in a fun, interactive way.

UGA athletes cheered on the students and spoke about the importance of a college education. The game's winner received a scholarship from Horizon Staffing. Athens–area professionals were available after the game to talk to students about different career options.

Living in a college town, we are fortunate to have the resources of not only a top university in the nation, but also the community in which to put our knowledge to work. Making a difference does not always mean spending thousands of dollars, but can be something as simple as showing the future bulldog generations that college

is

an option...for everyone.

Congratulations to the UGA student Bateman team within PRSSA for planning such a successful event and making a lasting impression on those students who may sitting next to you in class this fall.