Planning a holiday weekend getaway trip to Athens, GA? Whether you are a foodie, shopper, ice skater, or lover of all things holiday-related, Athens has you covered! 
Use these Athens events, activities and restaurant ideas as a guide to creating the perfect holiday itinerary for you.  
Your Athens holiday itinerary: 
Breakfast in Downtown 
They say breakfast is the most important meal of the day, so start your day off right by eating at one of many local breakfast spots around town!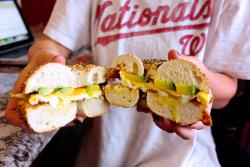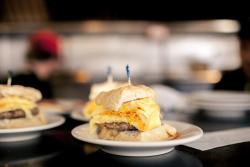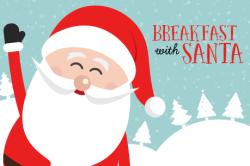 Athens Bagel Company- The Athens Bagel Company menu features real New York- style bagels of all kinds, baked fresh daily. Choose from a variety of bagel types, cream cheeses, and sandwiches.  Build your own, or get something a little different, like a Lox Sandwich or their signature Bagel Brei!
Mama's Boy- Locally owned and run, Mama's Boy is a local favorite hot spot for breakfast and brunch in Athens. Menu items include "Chocolate Cake for Breakfast!" Vegan and vegetarian options available. 
Breakfast with Santa- On December 8, 2018, bring your family to have breakfast with Santa at The Classic Center from 8:30 a.m. to 10:30 a.m. You'll enjoy a special visit and photo with Santa, a delicious breakfast buffet, visits with other holiday characters, fun at Santa's workshop craft station and a coupon for $2 off an ice skating session at The Classic Center. Tickets are $25 for adults and $20 for children under 10.
Children are also invited to take part in the Breakfast with Santa Coloring Contest. Kids 10 and under are invited to participate in this contest for the chance to win a gift basket of holiday favorites including tickets to The Nutcracker, ice skating, and more. 
Athens Heritage and Home Tours 
December is one of the best times of the year to explore Athens' heritage and take a tour of historic homes while they are decorated for the holidays. There are several wonderful opportunities: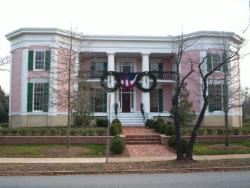 Classic City Tour of Homes- On Sunday, December 2, visitors from all over gather together in Athens for this special event, hosted by UGA Miracle. This exclusive tour gives you the opportunity to visit some of the University of Georgia's multi-million dollar sorority and fraternity houses on Milledge Avenue, all decorated for the holidays! Tickets start at just $10 and vendors will be set up along the route in case you are behind on holiday shopping!
The Holiday Gala Tour of Homes- The Athens-Clarke Heritage Foundation has four homes on Milledge Circle opening their doors for this highly-anticipated party of this holiday season, on Sunday, December 2. Milledge Circle is one of Athens' newest local historic districts. This self-guided tour will include food from a variety of local restaurants and a silent auction. If you're interested in becoming a member of the Athens-Clarke Heritage Foundation, you'll have access to a fifth house on the tour. 
Lunch in Downtown
If you thought breakfast was good, just wait for lunch! Wind down your tour with lunch at one of these local Athens' eateries.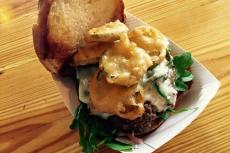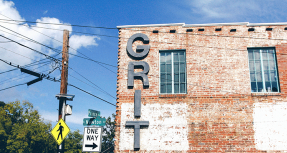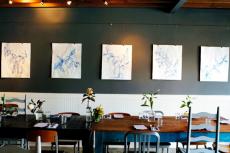 Clocked!- This popular lunch spot features huge burgers, pasta, fish and chips, and vegetarian and vegan items.They have plenty of gluten free options too.  Where else could you get a Blackberry Bacon Jam Burger?
The Grit- Delicious homemade vegetarian food delivered for more than two decades on Prince Avenue, just a few blocks from downtown. It's not just for vegetarians though! Their yummy meals appeal to even the hungriest carnivore.
home.made from scratch - Check out this winner of the "100 Plates Locals Love" designation from ExploreGeorgia (two years in a row!), home.made offers seasonal soups and salads, freshly baked desserts, and sandwiches. With a New Orleans-inspired menu, you will love the Muffuletta and tomato pie.
Downtown Shopping and Holiday Markets 
After lunch, visit one of the many signature shops around downtown or check out one of Athens' special holiday markets. Either way is a sure way to get on top of (or catch up on!) any holiday shopping you need to do!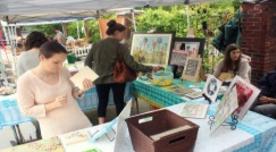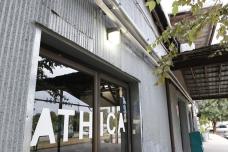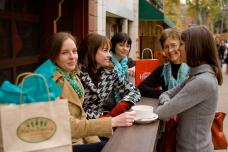 Indie South Fair Holiday Hooray- Come visit Indie South's biggest event of the year beginning Saturday, December 1! Shop and connect with artists from all across the Southeast as they both sell their products and demonstrate their techniques and creative processes in a recreational, street-fair atmosphere that is only $3 per person and open to everyone.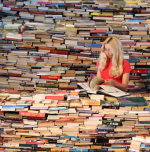 Athens Institute for Contemporary Art Holiday Market-  Athica will host their annual Holiday Market on December 15.  Boasting the "finest in Southern Creativity," this is a remarkable opportunity to support local artists and buy the perfect gift for those friends or family members who are hard to shop for.
State Botanical Garden Open House & Concert- The Visitor Center and Conservatory will be decorated for the season for a day of family fun on Sunday, December 2. Santa will be available to hear kid's wishes and a member of the garden's education staff will lead kids in a holiday-themed craft. Don't forget to stop by the gift shop so you can find that perfect gift!
Dinner
Treat yourself to one of Athens' finest restaurants and unique menu items.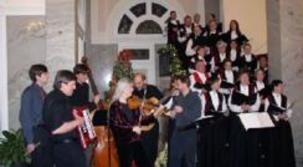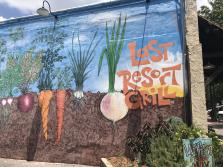 Yuletide Musical Dinners- December 6-8, the Athens Chamber Singers are inviting you to join them for their annual Yuletide Musical Dinner at 7:30 p.m. at Trumps Catering. This event features a delicious dinner buffet prepared by Trumps while singers entertain throughout the evening with wonderful holiday tunes.
Last Resort- A popular dining spot in Athens, the menu consists of a Southwestern cuisine with a distinctive culinary point of view. Last Resort is open seven days a week, offering dinner nightly. And what is dinner without the perfect dessert?  With dozens of sky-high cakes and specialty cheesecake, what could be better?
Trappeze Pub- Good conversation and amazing beer. The 24 beers on tap and almost 200 in bottles represent the best gourmet beers that are available in the state, all presented in a beer menu with highly descriptive tasting notes. The food menu is just as impressive, with a focus on locally-sourced, seasonal fare.
Porterhouse Grill- A consistent favorite of Athens residents and visitors in search of a great steak in a comfortable fine dining atmosphere. Come dine at a downtown Athens staple, serving classic meals and boasting a great wine selection for any occasion!
Akademia Brewing Company- Athens' newest brewery also boasts a restaurant, complete with beer-inspired offerings such as beer-braised pork chops and beeramisu.  With a rotation of the freshest beers and a knowledgeable staff to help you make the perfect pairing (or try them all!), you will not be disappointed.  
A Night Out on the Town
Dinner doesn't mean the day is over! Athens is known for its entertainment scene, and November & December adds a festive holiday flair. Enjoy a wide range of events, including parades, performances, and pub crawls.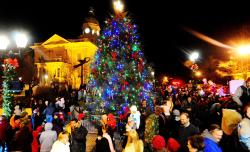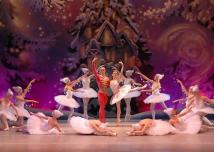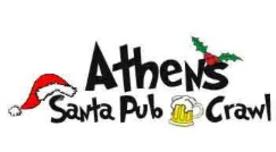 Cirque Dreams- Holidaze at the Classic Center- A Broadway musical and holiday spectacular all in one, this performance has over 300 costumes, 20 acts, original and seasonal music and more. Celebrate Thanksgiving, Chanukah, Christmas, and New Years while attending this performance on November 28 and 29. 
Athens Ice Skating- The Classic Center is home to an indoor NHL-sized ice skating rink that offers multiple public skating sessions every day. The 2017-2018 season officially begins November 23 and continues until January 13. Skating will resume on January 25 at the Foundry Pavilion until February 24. Want to know more? Click here.
Athens Santa Pub Crawl:  Live Wire Athens invites you to join their 10th Annual Santa Pub Crawl through Downtown Athens. All proceeds will benefit the Athens Area Humane Society, so purchase your wristbands today for just $15! 
Downtown Athens Christmas Parade- Kick off the holiday season in Athens with this special event in Downtown on Thursday, December 6. The theme for this year is "Christmas around the World." The parade begins on the corner of Dougherty and Pulaski Street at 7 p.m. and ends in front of City Hall for the traditional tree lighting ceremony, hosted by none other than Santa Claus! 
The Nutcracker- The treasured tale of a little girl's journey through a fantasy world of fairies, princes, toy soldiers and an army of mice comes to Athens at The Classic Center Theatre.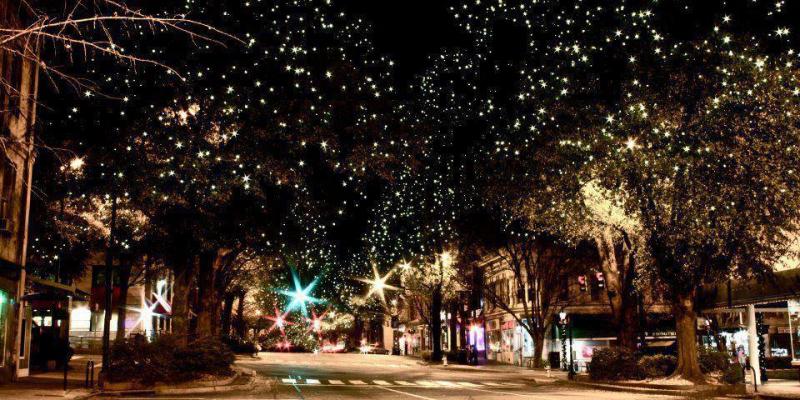 Athens has your holiday season covered. The Classic City transforms into a winter wonderland for the entire holiday season, making it a top destination in Georgia. To make the most out of your holiday season and experience everything the city has to offer, discover more on our holiday festivities page to begin planning a holiday getaway to Athens, Georgia!
This blog was originally authored by Cayla Robertson on November 1, 2016 and updated by Alli Coberth on November 21, 2018.