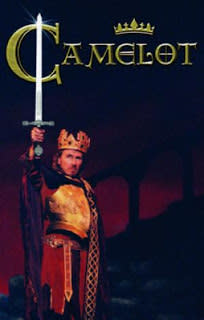 A Dawgs' bye week makes for a calm weekend in the Classic City... but rest assured there is still plenty to keep you occupied.
Friday, October 23rd:
Camelot comes to The Classic Center Theatre! The Broadway favorite transforms The Theatre into a land where honor and chivalry reign. Come enjoy the love triangle of King Arthur, his Queen Guenevere and the young Lancelot; with its dramatic plot and enchanting musical scores. Whether you are seeing it for the first or fifteenth time, the show is sure to delight. The show begins at 8 p.m. with tickets available at The Classic Center's website.
Nuci Space, a beloved Athens original, invites the city to celebrate its 9th anniversary. The non-profit health and resource center has provided obstacle free treatment for musicians suffering from depression and other such disorders for the past nine years. Celebrate the success of the space with four hours of live music from local artists, a silent auction, signed music memorabilia, and refreshments. The party starts at 5:30 p.m. and is free admission. For more information visit Nuci Space's website.
Get ready for the holidays with the Junior League Marketplace, the annual shopping extravaganza of amazing arts, crafts, and gifts.
Saturday, October 24th:
Learn how to live healthy in the Classic City! This Saturday is Athens Health & Wellness Day. Bishop Park will become a haven for healthy living from 9-12p.m. Visitors will enjoy complimentary (that's right FREE) massages and acupuncture sessions, as well as receive advice from local practitioners.
Sunday, October 25th:
Athens adults can unwind this weekend at the 10th annual Fall WineFest Fundraiser at Ashford Manor in Watkinsville. Festival-goers can enjoy beverages from eight different wineries, package stores, and Terrapin brewery. Twenty five restaurants (including local favorites like Harry Bissett's New Orleans Cafe, Last Resort, The National, and Speakeasy) will be catering the event. Fest. The festival also features a raffle and silent auction. The event runs from 3-6p.m. on the manor lawn. Tickets are $30 in advance and $35 at the gate(see the previous blog post for a chance to win free tickets!). Visit the Oconee Cultural Art Foundation's website for a full list of participants.
The EcoFocus Film Festival comes to a close this weekend with its closing night awards party. Come out to Hotel Indigo at 7p.m. to recognize the festival's favorites. Enjoy refreshments and live music by Grogus. Tickets are $12.
The Tide rolls into the Ramsey Center Sunday afternoon as UGA volleyball takes on Alabama. Play begins at 1:30.
This weekend would be a great time to check out some of the ongoing art exhibits throughout town at the Lyndon House, Athica, and the State Botanical Gardens.
For more on these and other events, see our EVENTS CALENDAR.