Spring has officially sprung in the Classic City! Kick off the new season right with Athens' biggest thrift sale, a relaxing outdoor gathering at Terrapin and the famous Dancing with the Athens Stars Competition. If this is only the beginning of Spring, we can't wait to see what's in store for the rest of the season. Come see us, folks!
Spring weather means new clothes, and what better time to go shopping than during the Classic City's biggest Thrift Sale?
Bargainza
is the perfect opportunity to stock up on the latest fashion trends for remarkably low prices! This exciting event begins Friday night (March 22) at 6:30 p.m. where guests can preview all of the items for sale. The big sale will then be held Saturday (March 23) from 8 a.m. to noon. Don't miss out on this amazing opportunity to stock up on all of your Spring needs!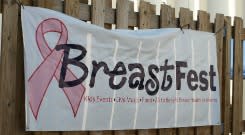 In honor of raising breast cancer awareness in the Athens community, Terrapin Brewery is hosting Athens' annual
BreastFest
Saturday, March 23! Join us for a day of local beer, food and live music from Kinky Waikiki, Dangfly and The Heap. This exciting event will even feature a special kids carnival with delicious food from Zaxby's, not to mention kids get in FREE! Beginning at 1:30 p.m. and extending to 8:30 p.m., this outdoor event is the perfect way to kick off the Spring season! 
We've all watched Dancing with the Stars on T.V., and now it's time to bring that entertainment right here to the Classic City!
Dancing with the Athens Stars
has entertained thousands of people since it first began in 2008. Featuring 11 talented teams, the money raised at this annual event supports services for survivors of domestic violence. Don't miss out on this exciting dance competition Sunday (March 24) at 7 p.m. Admission is $20.
Want a complete list of all upcoming activities going on in Athens? Explore our event calendar at 
Visit Athens, Georgia
. Join the 
mailing list
 to stay in the loop about exciting events going on in the Classic City!