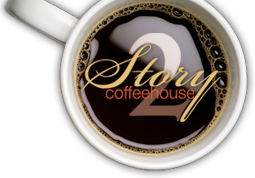 We all know there are plenty of great places to get coffee in Athens, but this one has to take the cake in my book.

Two Story Coffeehouse, located in five points, opened this past fall and has seen a daily rush of customers ever since. Seldom will you find a time when more than one table in vacant in this literal house converted into a cafe.

But don't let that deter you from going. Two Story boasts a first floor full of comfy chairs, tables to sit and chat, a bar area and outside deck; while the second floor is committed to a more quiet atmosphere full of study/conference rooms.

Two Story proudly brews 1000 Faces Coffee, an organization committed to the fair- and direct-trade model.

For more information check out their new website, or read what the Red & Black, the UGA student newspaper, had to say here!