With every challenge comes opportunity, and YOUR opportunity during social distancing is to dine privately with a 6 course menu written and cooked by two-time James Beard Award Winner Hugh Acheson! Each group will be limited to ten people and will dine privately in one of Five & Ten's historic dining rooms. Five & Ten takes the safety of staff and diners very seriously and will abide by all standards laid out by the FDA and CDC on how best to serve during this time. These dinners will primarily be offered on Thursday evenings. Email the restaurant at contact@fiveandten.com for more information and for reservations.
Five & Ten is Also Offering Take Out
Five & Ten's dining rooms are temporarily closed for traditional service, however, in addition to the private dining opportunity mentioned above, they are also offering takeout on Friday and Saturdays. The prix fix menus are priced at $60 for dinner for two. Choose from Menu A or Menu B. Make note of any dietary restrictions and they will be accommodated. Order online in advance. And don't forget to add some to-go beer and wine to your order!
Sample Take-Out Menu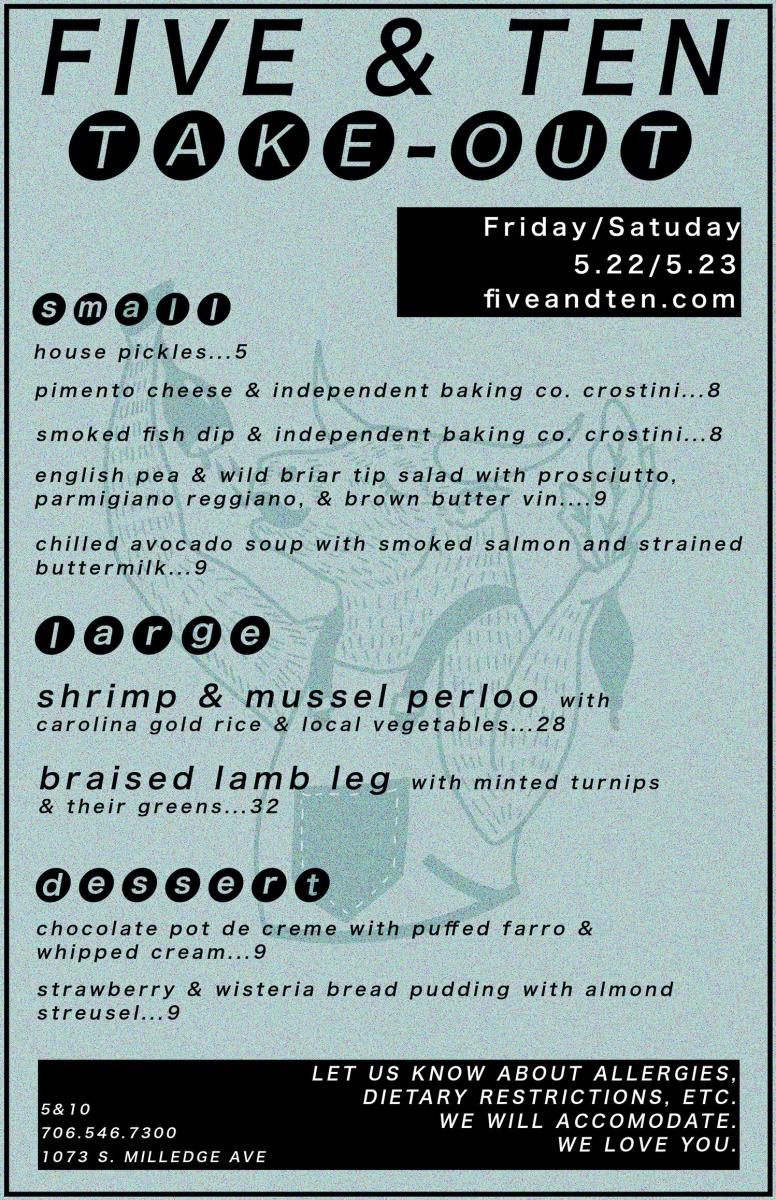 Five & Ten Aids Food Relief Efforts
What else have Hugh and Five & Ten been up to during the coronavirus pandemic? They've been busy providing meals to those in need through World Central Kitchen, the relief organization founded by Chef José Andrés and his wife Patricia. World Central Kitchen envisions a world where there is always a warm meal, an encouraging word, and a helping hand in hard times.