Get Ready for G-Day 2023! The countdown to Saturday, April 15th has begun. Begin planning your trip to Athens to get the first look at the Bulldogs when the back-to-back National Champions faces off in Sanford Stadium. From the vibrant live music scene to local cuisine, there are so many ways to explore the Classic City. Plus, there are plenty of hotels for a good night's sleep before your G-Day festivities. Get the lowdown on can't miss spots around Athens to make the most of your time in the Classic City.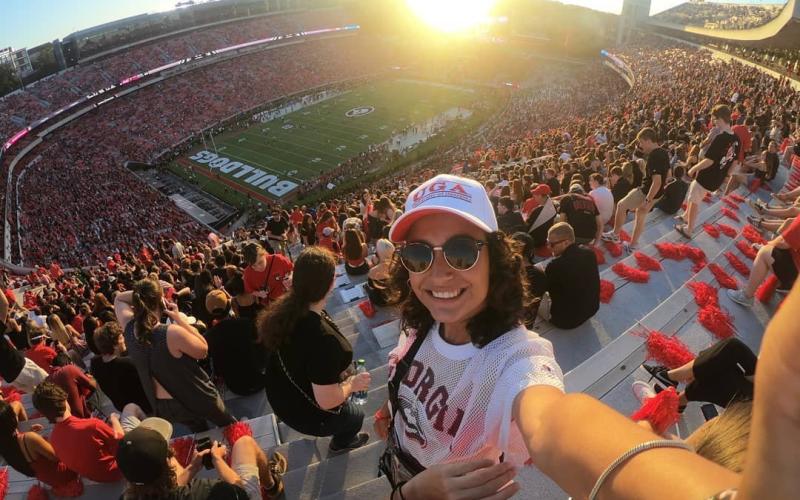 G-Day Fun in Athens
Come experience an electrifying weekend in Athens as University of Georgia football players and fans gear up for the first look of the season. Arrive on Friday to kick off your weekend with a visit to Butts Mehre Heritage Hall Sports Museum, to relive iconic UGA football moments and view items from the 1996 Olympics competition in Athens. Then head to the UGA Special Collections Libraries for a football-themed tour and learn more about historic football moments at UGA. 
On the big day, consider heading downtown to tailgate with fellow football fans. Popular spots include UGA Myers quad and North Campus—home to Herty Field, the original UGA football field during the 1800s and early 1900s. In Athens, a tailgate is not complete without some BBQ from Dawg Gone Good BBQ or Pulaski Heights. These local restaurants offer takeout platters that are sure to make for great game-day fuel.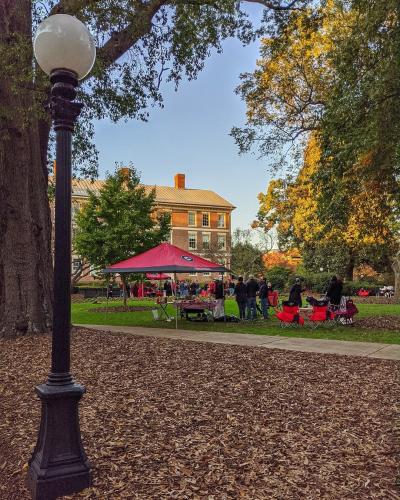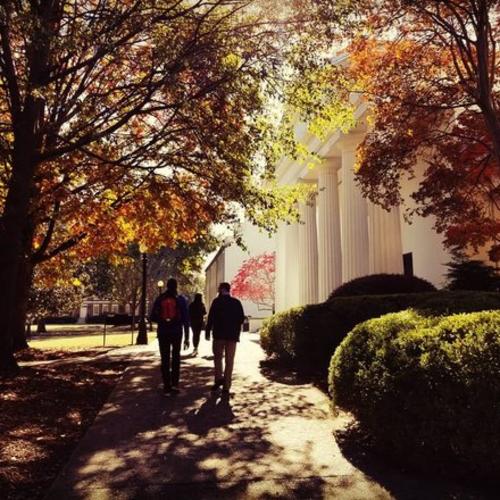 Another fun activity that football fans may enjoy is the Dawg Walk. Join in on this UGA tradition that begins two hours before the start of G-day and every home football game. Fans, cheerleaders, and the Redcoat Marching Band line the street outside the Tate Center to cheer on the football team and coaches as they enter Sanford Stadium. 
Explore the cool vibe of Downtown Athens
While visiting Athens, check out the city's vibrant downtown scene before heading back home. Visitors can enjoy a scenic walk through UGA's historic North Campus and see one of UGA's finest landmarks: The Arch. The Arch is the symbol of UGA and stands as the gateway between North Campus and Downtown Athens. From the Arch, head to Clayton Street to see more Athens charm including vintage record and clothing stores, boutiques, and other shopping spots. Downtown is home to a wide variety of restaurants, including hot spots Clocked, Trappeze Pub and Blind Pig Tavern. Vegetarian and vegan options are available on most menus around town, but if you're looking for the best of the best, check out The National, or Last Resort Grill. Plus, the streets of downtown are booming with musical talent at various venues.
Catch a live show
A visit to Athens is not complete without taking in a live show. Athens is known for its renowned music history and bands such as R.E.M., the B-52's, and Widespread Panic. The music scene in Athens is constantly growing and changing, spotlighting new talent and featuring well-known performers at the venues. Head over to the Georgia Theatre or 40-Watt Club to see a live music performance. Be sure to check out the Athens Concert Calendar to stay up to date with all of the amazing artists coming to play in Athens. For those interested in learning more about the Athens music scene, there is always the guided Music History Walking tour. Visit www.athenswelcomecenter.com, for more information about the guided tour or to download the self-guided tour pamphlet. And definitely don't miss the Athens Music Walk of Fame. 
Discover Dining spots
After attending a show, explore other dining locations. Head over to what is known as "Greek Row"— due to the various sorority and fraternity houses that are planted on the street — for dinner or even brunch at Five & Ten. This restaurant is owned by James Beard award-winning chef, Hugh Acheson. For something a little more laid-back, Mama's Boy is a great spot for breakfast or lunch. Those sweet cravings are put at ease with a visit to Condor Chocolates to indulge in Ecuadorian chocolates or coffee. Another cool sweet spot is Lil' Ice Cream Dude's Cool World, which offers delicious ice cream, popsicles, milkshakes and more! Alumni Cookie Dough is also a must-visit. Athens 1st Cookie Dough Cafe is home to gourmet cookie dough that comes by the scoop, in a sundae, blended with ice cream into a milkshake, or have the gourmet cookie dough infused into ice cream for their famous Dream Creme!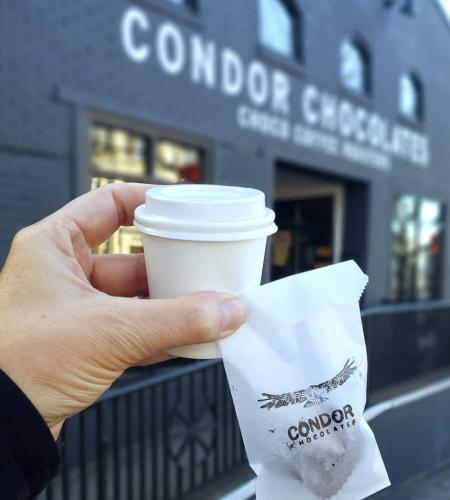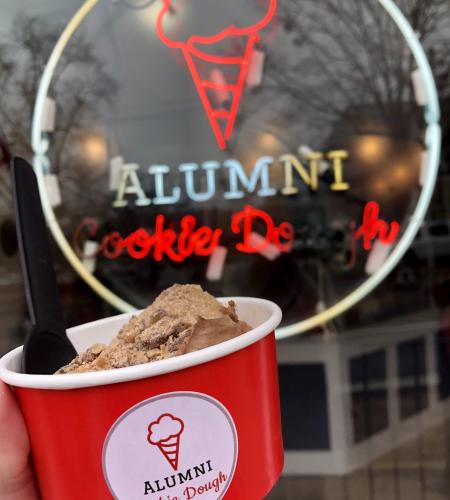 Get a Taste of the Award-winning Craft Beer Scene
Cool off with some craft beer from the award-winning beer scene. Creature Comforts Brewing Company is located right downtown and their taproom has an amazing draft menu. Head to Creature to try their Tropicalia and Athena beers! Across town, Terrapin Beer Company has been named the official beer for the Atlanta Braves team. Their brews such as Hopsecutioner and White Chocolate Moo-Hoo are perfect to try. Stop by Southern Brewing Company, one of less than 50 breweries in the nation to preserve and cultivate a yeast strain that is used to brew the beer onsite, and have a Red & Black sour. Akademia Brewing Company not only offers delicious food that pairs well with their beer, but also food made with their beer for a unique taste. Athentic brewery offers a variety of brews in a laid-back, welcoming environment that frequently features live music and food trucks. These breweries also offer tours, tastings, and a chance to learn more about the craft beer-making process. All 5 of these breweries plus Normaltown Brewing Company are a part of the Athens Beer Trail. The Beer Trail is a great way to explore Athens best breweries and it's not every day you get prizes for drinking beer. Hop on a Athens Beer Trail Trolley Tour so no one has to DD. After visiting each of the six breweries and collecting all six brewery stamps, take your fully stamped Trail Guide to the Historic Athens Welcome Center and receive a keepsake beer glass to remember your travels and solidify your new title as a member of the #AthensBrewCrew.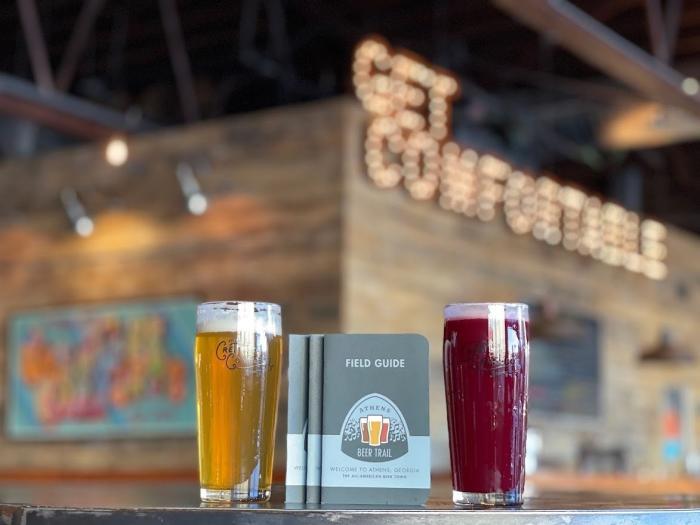 Plan your visit to Athens, Georgia
Live music, shopping, and dining are just the start of what Athens has to offer. To plan a visit for G-Day, make hotel reservations, at visitathensga.com/hotels/. Athens is home to several charming boutique hotels that offer a one-of-a-kind vacation experience, including options with chic, contemporary décor, as well as rustic establishments that honor Athens' rich history. Even better, some even allow pets, so no need to leave anyone in the family out of this thrilling excursion.
Come check out Athens during G-Day and keep coming back for all of the football weekends this season, and get a glimpse of life in the Classic City.
For more ideas and itineraries to make your trip to Athens an exceptional experience, please check out Visit Athens at VisitAthensGA.com/football.