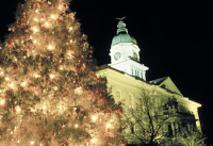 There is truly not a thing that compares to strolling down the streets of downtown Athens with nothing but sunshine and time. In it's winter decor, downtown's beautiful, historic buildings twinkle with holiday lights, welcoming the season and all of it's splendor. Athens' trendy but classic holiday vibe offers holiday shoppers and winter outings a vibrant mix of local art eclectic shops.
My personal favorite part of holiday shopping downtown is the unpredictable and amusing local shops that end up catching my eye. The variety of unique stores in the area offers shoppers and gift givers everything from fashion to food and art. As a professional window shopper, I've done my fair share of downtown shopping and have discovered some of the best original shops, for the perfect gift and interesting pieces. Among the many wonderful boutiques downtown, I've narrowed the options down to my two favorites:
Helix
and
The Junkman's Daughter's Brother
.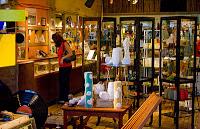 I originally stumbled on
Helix
four years ago during
my first visit to Athens, and it still never ceases to spark my creativity. Upon entering the store, visitors are immersed into an atmosphere of imagination and fun. Offering customers everything from well-designed and artistic stationary to innovative local art pieces, such as recycled record coasters or bottle cap picture frames, its no wonder I can spend so much time in this one shop. But don't worry. Helix isn't just for the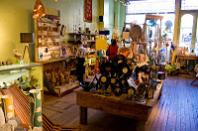 creative at heart. The cleaver saying and gag gifts found scattered throughout the store adds a uniquely hilarious Athens personality to the shop as well. With arts and crafts, creative pieces, goofy knick nacks, stunning originals, and interesting creations, Helix is the perfect place to find a gift for a friend or a treasure of your own.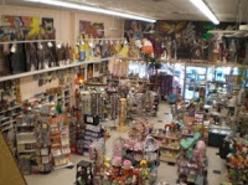 Junkman's Daughter's Brother, on the other hand, is an entirely different experience. Related to the Junkman's Daughter in Atlanta, the store was actually founded by the brother of the daughter of a real-life junk man. A little crazy? So is the store. Filled with both the weird and the wonderful, the incredible clutter of the store overwhelms shoppers with the childish and exciting feeling of a scavenger hunt. Life-size posters and flags fill the walls and manikins wearing masks, vintage pieces, and anything flamboyant greet customers throughout the store. If you're looking for entertainment or shopping for a completely unique gift, this is the place to go. The bizarre but amazing accumulation of everything from unusual gifts and retro knick nacks to collectibles and toys, this store has everything and anything you could ever imagine.
Even though I've roamed in and out of all sorts of stores in downtown Athens, I'm sure there are stores that I've overlooked. What are some of your favorites downtown shops for holiday gifts? For more Athens holiday fun and plenty of options for shopping Athens local, visit
www.VisitAthensGA.com/Holiday
.