The holiday season in Athens, GA is a festive time with endless opportunities for celebration. Now is the perfect time to plan your holiday getaway to the Classic City!  Visitors of all ages can enjoy festive heritage events, artist markets for unique holiday gifts, Santa sightings, and of course, live music. If you haven't had the chance to celebrate the holidays in Athens, this is your year!
Athens on Ice
The Classic Center is home to an NHL-sized indoor ice skating arena plus an outdoor skating pavilion featuring a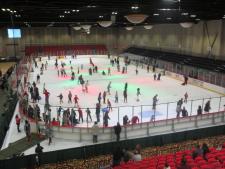 mobile 17,000 square-foot rink. The rink offers multiple public skating sessions every day, and even an adult hockey league. This Athens winter staple is perfect for the whole family to enjoy, so make sure you take advantage of all the rink has to offer and enjoy a wonderful, family-friendly day on the ice! The fun starts on November 23th! Ticket go on sale November 16. Prices and a schedule for the 2018-2019 season can be found here.
Holiday Book and Frame Sale
On November 28-30, the Georgia Museum of Art will be hosting their annual Holiday Book and Frame Sale from 10 a.m. to 4 p.m. Come shop for your loved ones, as the sale will feature both new and used publications of all genres. If you would like to donate books, please contact the Georgia Museum of Art directly at (706) 542-4662.
Athens Santa Pub Crawl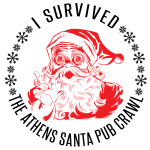 The 10th Annual Santa Pub Crawl hosted by Live Wire Athens will take place on Saturday, Dec.1. Invite your friends to join in on this fun night from 6:30 p.m. to 12 a.m. while also supporting a good cause. Wristbands are $15 in advance and all proceeds will go to the Athens Area Humane Society. For venue details and how to purchase wristbands, click here.
Indie South Fair: Holiday Hooray!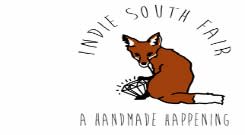 The Indie South Fair: Holiday Hooray provides a venue for artists to directly connect to the community by sharing their techniques and creative processes in a recreational, street-fair atmosphere that is open to everyone. Head over to Chase Street on December 1-2 to support local artists and shop for holiday gifts and decor.
Classic City Tour of Homes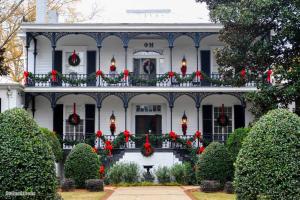 Visitors from all over gather together in Athens for this special event to benefit UGA Miracle. This is the only time of the year that the beautiful UGA sorority and fraternity houses open up their decked out houses to the public! The houses are prepped to showcase their rich history, traditions, and holiday splendor on Sunday, Dec. 2 from 12:00 p.m. to 5 p.m. Vendors will be set up at each house so you can get some holiday shopping done as well. All proceeds will go directly to UGA Miracle, which works to raise money for Children's Healthcare of Atlanta. The Classic City Tour of Homes is a wonderful way to enjoy the Christmas season while also giving back. 
Classic City Band Holiday Concert
It's time to celebrate the holiday season with none other than the Classic City Band's Holiday Concert at the State Botanical Garden of Georgia on Tuesday, Dec.11 from 7 p.m. to 9 p.m. The Classic City Band is the oldest community band in Georgia and was founded in 1976 for the purpose of preserving the rich cultural heritage of the American concert band. Admission to the concert is free so bring the whole family to enjoy the festive holiday music! 
Downtown Athens Christmas Parade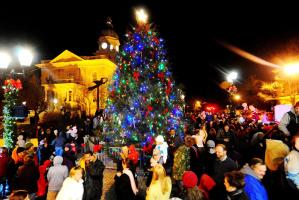 How better to celebrate the holiday season than with a Downtown Parade on Thursday, December 6th? The Downtown Parade of Lights will begin on the corner of Dougherty and Pulaski Streets at 7 p.m. and will end in front of City Hall for the traditional tree lighting ceremony, hosted by none other than Santa Claus himself! There will be floats, live music, and groups of people winding through the streets of Downtown Athens making this the perfect opportunity to get in the holiday spirit!
State Botanical Gardens: Holiday Open House 
The State Botanical Garden will have their Holiday Open House on Sunday, December 2 beginning at 2 p.m., so come celebrate with them at this special family day. Santa will be available to hear children's wishes and the education staff will help children create a holiday craft. Their gift shop will be well stocked with holiday decor, as well as books, jewelry, toys and more. Immediately following is a free concert as part of the Holiday Open House in the Visitor Center, so enjoy the stroll going from one to the other through the display gardens. 
Holiday Gala Tour of Homes

The Athens-Clarke Heritage Foundation will have four homes opening their doors on Milledge Circle, one of Athens' newest local historic districts. This self-guided tour will take place on Sunday, Dec. 2 from 5 p.m. to 8 p.m. The tour includes a variety of food options and a one-of-a-kind silent auction. Standard Gala tickets are $55 for members and $80 for non-members. 
The Nutcracker
The treasured tale of a little girl's journey through a fantasy world of fairies, princes, toy soldiers, and an army of mice com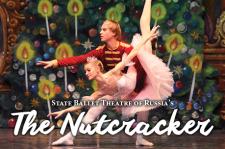 es to Athens on December 22 and 23 at The Classic Center Theatre. The Nutcracker  presented by The National Ballet of Odessa from Ukraine is filled with Tchaikovsky's beloved music, including "Waltz of the Flowers," "Dance of the Sugar Plum Fairy," and "Waltz of the Snowflakes" along with spectacular sets, beautiful costumes, and enchanting choreography. It is truly a magical experience that the entire family can enjoy.
New Year's Eve 2018
What better way to ring in 2018 than in Athens? A variety of venues will be hosting special events for one of the most celebrated holidays in the Classic City. If you are looking for somewhere to stay, enjoy a special holiday package by Hotel Indigo Athens or Graduate Athens. For live music, head to the 40 Watt Club on December 31st for Kishi Bashi. 
As you can tell, Athens has your festivities covered. The Classic City transforms into a winter wonderland for the entire holiday season, making it a top destination in Georgia. To make the most out of your holiday season and experience everything the city has to offer, start planning your holiday Athens getaway now! 
Originally written by Cayla Robertson on November 1st, 2016 and updated by Alvieann Chandler on November 8, 2018.