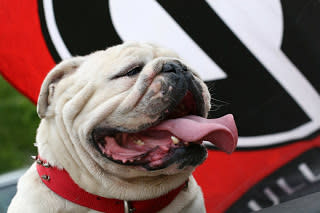 After almost a month on the road, the Bulldogs are back at Sanford Stadium. Make a weekend out of UGA's homecoming with a series of Dawg-related events.
Don't forget to share your favorite UGA football memories with us on our
blog
. The best memory will win a free night's stay at the Holiday Inn Athens! You have until Friday to give us a great Dawg story.
Friday, November 6th:
Start the weekend off right at the Melting Point's weekly "Lunch With the Dawgs". This week's featured speaker is UGA strength coach Dave VanHalanger. The Coach's expectantly motivational speech is sure to pump up Dawg fans for this weekend's showdown. The lunch starts at 11:30 a.m. Tickets are $8 in advance and $10 at the door. Price of admission includes lunch crafted by award winning Executive Chef Martin Smetana.
The Homecoming Parade storms the streets of downtown at 6 p.m. Friday evening. UGA All-American gymnast Courtney Kupets will serve as the parade's Grand Marshal. She will lead a procession of floats, The Red Coat Band, UGA Athletes, and Athens dignitaries. For a complete list of the week's homecoming events visit the University Union's website.
UGA Equestrian hosts Fresno State at the Equestrian complex on Friday afternoon.
There is nothing better than an evening of live music the night before a Dawg's game. Come out and enjoy Kim Carnes at the Rialto Room this Friday. Nashville singer-songwriter Carnes has had three # 1 country hits, including Billboard #1 "Betty Davis Eyes". The song went on to win Grammys for both record and song of the year. Shows begin at 7 and 9:30 p.m. Tickets are $25 and are available on the Rialto Room's website.
Saturday, November 7th:
The Dawgs are back at Sanford Stadium to take on the Tennessee Tech Golden Eagles. Kickoff is at 1 p.m. Alumni visits and the crowning of the homecoming court will certainly make this a Saturday to remember.
Sunday, November 8th:
Lady Bulldog basketball kicks off their 2009-2010 season this Sunday with an exhibition game versus Clayton State. Tip-off is at 2:30 p.m. at Stegeman Coliseum. Admission is free.
This Sunday is also the closing of Athica's Free Press in Free Fall exhibit, be sure to witness this thought-provoking event before its too late. Visit the CVB's event calendar for a full list of the weekend's events. Enjoy your homecoming and GO DAWGS!