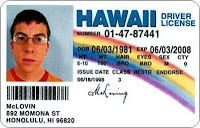 For those of you who missed it, 
Christopher Mintz-Plasse (
better known as
"McLovin"
 from
Superbad
)
was in Athens
Tuesday night for a publicity tour for his new movie,
Role Models
(costarring
Paul Rudd
and
Sean William Scott
).  The tour started with free food for the first 100 guests at the Delta Sigma Phi fraternity house, followed by a free advanced screening of
Role Models 
at Beechwood Cinemas.  After the screening, he headed to Sideways downtown.
I happened to be working at Village Idiot downtown Tuesday night and "McLovin" ended up in my bar after his appearance at Sideways.  He's a really cool kid, and exactly as goofy and lovable as his character in
Superbad
.  Yes, I was completely starstruck and took a million pictures with him - as soon as I get them (they weren't on my camera) I'll post a few!
I got to spent a lot of time talking to him and his publicists about how they were enjoying Athens and they asked me for recommendations of what to do the next day before they had to jet off to Omaha for the next leg of their tour.  They kept saying how much they loved Athens and wished they could have spent more time here to see everything the town has to offer.  They also said the people were great, they had fun at the bar scene, and it's just a generally friendly town.  
It's nothing new to hear how much students and Athens natives love our town, but it was cool to hear it from a Hollywood movie crew, not to mention one that's in the middle of a nationwide college town tour! How's that for a celebrity endorsement...