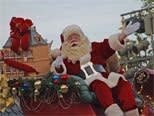 I can't say that I've figured out how to eliminate HECTIC from my holiday repertoire. I CAN definitely say that, after being out and about in Athens this week for various shopping and holiday lunch excursions, I've had an easy time embracing the good spirits of the season.
Had a lovely lunch with my wonderful co-workers at
East-West Bistro
. Renee was hostess with the mostest-- I enjoyed watching her bounce from table to table, and it seemed like she was on a first name basis with everyone. Such a small-town type of experience; am so glad Athens is holding on to that!
The oddest gift on my shopping list was a hiking stick, and I found just the one at Native America Gallery-- thanks so much to the wonderful elves there, who even offered to gift wrap the dang thing (though I told them it wouldn't be necessary-- I'm gonna just slap a bow on it, I think).
Our Convention & Visitors Bureau Advisory Board holiday luncheon was hosted by the new
Hotel Indigo
, in the
Rialto Room
music club. We were all wowed by the attention to every detail in the construction and the decor. One of my table-mates was telling me about sitting right in front at the recent Edwin McCain concert. Best. Concert. Experience. Ever., she said. Almost 100 local hospitality folks were gathered, and as each briefly highlighted what they've got coming up, I couldn't wait to get out and see and do all these great events. I was also so thankful to be amidst so many amazing, creative, positive Athenians and know we have great things ahead of us in 2010.
Here's wishing everyone a wonderful holiday season and Happy New Year, and hoping you'll take the opportunity to get out and about in Athens! Go ahead and
plan your New Year's Eve
in just a click or two.
Would love to hear YOUR favorite scenes or experiences of the season in Athens!