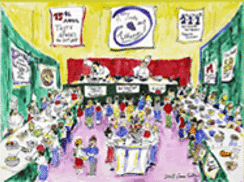 I have had two main loves during my life as a student at UGA: football and food.

I am always up to try a new restaurant, and although I am not always the most open to trying 'exotic' new dishes, I would have to say I get full enjoyment out of most everything I do taste.

And Athens is the perfect place to cure all of my cravings. From Italian to Cuban, there is something for everyone in the Classic City.

Check out Dawg Food, a blog about Athens' eats run by UGA student Katherine Strate.

But if you do like to stick to your few favorite places, this weekend is your chance to branch out.

This Sunday February 22, 2009 is Taste of Athens, an opportunity to sample more than 50 local restaurants in one evening along with wine and beer tasting, a silent auction and live entertainment at the Classic Center.

This year marks the 25th anniversary and I can assure you it will be nothing short of fabulous.

I know samples from a few of my favorites, 5&10 and Casa Mia, are enough to have me hooked.

Tickets range in price from $45 to $75 and are available online, or at Aurum Studios of Community Connection of NEGA. Discounted tickets are also available for groups of six or more.

For more details about participants and events visit the Taste of Athens website!