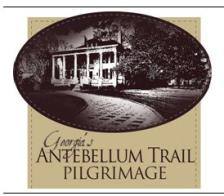 If you are looking to a way to enjoy the beautiful weather and explore some of Northeast Georgia's most quaint southern towns.

Georgia's award-winning, antebellum pilgrimage will take places during three consecutive weekends, April 16-19, 2009, April 23-25 and April 30-May 2. Each weekend has its own itinerary, so be sure to check out what is going on over the next few weeks.

Activities include historic home tours, cemeteries, restaurants and much more. Tickets are $25 each and include entrance into all activities on each city tour, including access to seven attractions and/or events.

The pilgrimage travels from Athens to Macon and includes seven different cities including Athens, Watkinsville, Madison, Eatonton, Milledgeville, Jones County and Macon.

To learn more about each city click here.

Can't afford the $25 ticket? Don't worry, many of the attractions along the trail are free or fairly cheap and still offer much of the same guidance and assistance.

The pilgramige is great for young and old alike, so don't count yourself out just yet. Look at this article from the Red & Black and see what event fits you best!