This fall Athens will be receiving 5,200 new pups to join the Bulldog Nation at the University of Georgia. But before they start their classes and watch a game between the hedges, every student must complete the two day UGA Orientation to acclimate themselves to campus.
But what about the parents? While students spend the two days with long, informational meetings, new UGA parents will have the opportunity to explore Athens on their own. 
Whether parents are returning as former dawgs themselves, or visiting Athens for the first time, here is my definitive list of what parents need to see, do, and explore while they are here in Athens. While students are being oriented to the university, parents can orient themselves to all that Athens has to offer. 
Just last year I was a freshly-graduated high school student, ready to begin my career at UGA. I'm originally from Wisconsin and therefore I had a lot to learn about Athens and learning to live like a local. I've spent the last year orienting myself to the Classic City, and more importantly, my parents when they came to visit. So I've included some of my picks as to what I think you should put on your Athens Bucket List with these parent-approved activities!
Parents are still invited to participate in orientation sessions, but for those who don't wish to follow the supplied schedule, here is the only to-do list you'll need for a two day orientation to Athens.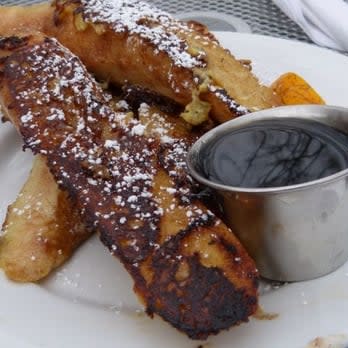 Brunch: As one of the greatest pastimes in this city, you're sure to find a restaurant to peak your taste buds.
My Pick: Big City Bread is a local gem with quaint outdoor seating and a menu that will get your mouth watering at first glance. My favorite dish is the pan-fried French toast, dipped in vanilla custard (pictured).
Live Like a Local: Fair warning, brunch lines start forming early, especially on the weekends. Your best bet to get in and be served quickly is to come on a weekday - I've found Mondays and Tuesdays are best for a no-wait dining experience. 
Other Picks: Mama's Boy, Big Family Cafe, Athens Bagel Co, Heirloom Cafe, Ike & Jane
Walk through North Campus: North Campus boasts the beautiful scenery that the university is known for: antebellum architecture, shady trees, and historic monuments. The University boasts the tile of the first state chartered university in the U.S. and its architecture owes its inspiration to that of Yale.
Checklist: Pass by the iconic Arch, ring the Chapel Bell, and for the adventurous among you, take part in a prized custom and jump into the fountain on Herty Field, where the earliest football games were played (these were also the times when our mascot was a goat).
Live Like a Local: On College Ave., a stones throw from the Arch, is a King of Pops stand. Grab a delicious popsicle and a book and find a shady spot under a tree to enjoy a summer in Athens.
Central Campus: Stop by the central hubs on campus which include the Miller Student Learning Center (MLC) and the Tate Student Center to see how real dawgs live, and study.
Live Like a Local: Stop by the second floor of the MLC and enjoy the local brew, Jittery Joe's. For those who need an extra dose of caffeine, order what is known as the Crackaccino; with four shots of espresso this drink is a must-have for students pulling all-nighters and preparing for finals. Grab your cup of coffee, head out the doors and down the stairs, and you'll have the perfect view of where Athens' true heart lies, Sanford Stadium.
Lunch on Campus: Enjoy lunch like a true student at one of the many award-winning dining halls UGA has to offer. Though admission price is a bit expensive, the menu is all-you-can-eat so you're sure to get your money's worth and understand why the "Freshman 15" is a real thing at UGA.
Like Like a Local: The Niche, on the Health Sciences Campus, can draw a waiting line, but is perhaps the best food you'll find on campus. With restaurant grade food and service, The Niche doesn't disappoint, especially with the gelato it serves for desert.
Shopping Downtown: Downtown Athens is full of a variety of shopping destinations sure to please any taste or style.
My Pick: The Red Dress Boutique offers an array of cute designer clothes and game day dresses, all at an affordable price. You might remember this store as they appeared on ABC's Shark Tank in Season 6. 
Live Like a Local: Many boutiques and stores will have sales; make sure to check websites and Facebook pages to know which stores are giving a discount that day!
Other Picks: Fab'rik, Masada, Heery's, Cheeky Peach, Onward Reserve
Relaxing Spaces: When the stress of classes gets to be too much, students often unwind in one of Athens' many relaxing spots.
My Pick: The State Botanical Garden of Georgia is the perfect place to unwind while enjoying the beautiful gardens and trails. This summer the Botanical Garden will also host the Sunflower Concert Series.
Live Like a Local: Every student can tell you about the swing by the railroad tracks, it's almost a rite of passage. Start at the railroad crossing at Pulaski St and walk towards Chase Park. You'll see a swing hanging from a large tree; embrace your inner child and swing freely.
Dinner: Athens is a foodie's paradise, even at dinner time.
My Pick: NONA (New Orleans N' Athens) is my favorite spot for some authentic Cajun cuisine with a southern twist. If you go, make sure to order the classic Raw Oysters on the Half Shell to start. Every dish on the menu recommends itself, but I'm a fan of the Eggplant Pirogue. 
Live Like a Local: Mexican restaurants are their own subcategory in Athens. Cali N Tito's and Tacqueria Del Sol are perfect, budget friendly choices that pack a lot of flavor.
Other Picks: The Last Resort, Five and 10, The National, Trappeze Pub
Athens Nightlife: Grab a drink, listen to some live music, and enjoy what has made Athens legendary.
My Pick: Georgia Theatre is my favorite place to experience the Athens music scene. With shows every week, who knows, you may just see the next R.E.M. or B-52's. Looking for an earlier show? Check out The Foundry, at Graduate Athens hotel.  
Live Like a Local: Take a brewery tour and taste all the great local beer Athens has to offer. Plan to visit your student while there's a show at The Classic Center or UGA Performing Arts Center, for bonus world-class entertainment while you're in town.
Deserts: When late night cravings kick in, the best remedy is a sweet treat.
My Pick: Enjoy a classic milk and cookies snack at Insomnia Cookies. With a sampling of cookies and toppings, you can get your sugar rush at an affordable price. 
Live Like a Local: Pauley's Original Crepe Bar puts a twist on a French classic. During dinner time you can enjoy a savory crepe, but for later hours, try one of their sweeter options (such as the S'mores Crepe).