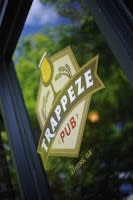 What else could you do for Valentine's Day?
Take your special someone out February 14th to Trappeze Pub for a special dinner to commemorate the patron saint of love! The chef has created a delicious four course dinner that pairs perfectly with your favorite beers and craft cocktails. Trappeze is taking reservations so be sure to check out all the event details
here
.
The 2011 Valentine's Day menu includes a 2-person prix fixe for $50:
2 soups or salads
1 shared appetizer
2 entrees
1 shared dessert
2 glasses of champagne with dessert
Or, order from a marvelous menu featuring Blackened Red Snapper, Espresso Brown sugar Crusted French Pork Chop, and Peppered Filet Mignon!
Make sure you get a table! Send Trappeze the number of your party and preferred time to trappezebooking@gmail.com.
Trappeze Pub offers a casual, community environment with only the best craft beers. Located in downtown Athens, GA , Trappeze has 32 brews on tap including a selection of Athens own Terrapin beers. Check out their selection and more at
http://trappezepub.com
.
And if you need a place to stay, Athens has plenty of romantic
hotel packages
to complete your weekend!