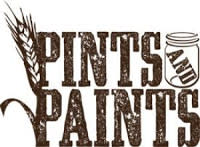 Valentine's Day is almost here and the Athens art community brings you the opportunity to do something out of the ordinary with your special someone. New to Athens,
Pints and Paints
is an art bar offering exactly what it sounds like: paint and drinks! Treat your sweetheart to an evening of good drinks and fun creations!
There are three paintings to celebrate the occasion:
Saturday, Feb. 12: Love Writer. 6:30 - 9:30 p.m., $45
Sunday, Feb. 13: Straight Flush. 6 - 9 p.m., $45
Monday, Feb. 14: Converse Love. Includes wine and chocolates! 6:30 - 9:30 p.m., $55
2/9 UPDATE:
Pints and Paints has updated their schedule of weekend events. Please check their
online calendar
for the most current schedule and to make your reservation!