Information and Resources for our Partners
We at the Athens Convention & Visitors Bureau are standing alongside our hospitality and tourism community as we navigate these uncertain times. We aim to champion our small businesses, support locals and continue to foster the spirit of our city.
In addition to providing updates and resources for the public, we will also be compiling information and resources for our local hospitality community members. We hope you will find this information of use, and we also ask that you let us know how we can help. We will be sharing #SupportAthensOwn stories and would like to share yours. We know that our creative community is innovative and resilient, and we want to hear from you. Use the #SupportAthensOwn hashtag, tag @VisitAthensGA on social, or email us at media@VisitAthensGA.com.
LAST UPDATED: August 5, 2020
Athens-Clarke Mask Requirement
Effective July 9, 2020, the Athens-Clarke County Mayor and Commission have approved an ordinance that requires face coverings or masks to be worn in all public places within Athens-Clarke County.
Review the details at https://www.accgov.com/9223/Frequently-Asked-Questions.
Jump to:

Local Resources
 
Effective July 9, 2020, the Athens-Clarke County Mayor and Commission have approved an ordinance that requires face coverings or masks to be worn in all public places within Athens-Clarke County. Read the full ordinance, or a summary of key provisions and some Q&A with commissioner Tim Denson here.

Keep up with official local government announcements and updates.
 
The local information hotline has been activated. Call 706-613-3333 and ACCGov staff members will field questions and take messages during unstaffed times. 
 
Resiliancy Package Information:  The Athens-Clarke County Commission voted on March 19 to provide up to $3 million in funding from the Prosperity Package and pursuing other sources for providing emergency assistance to those affected by the COVID-19 pandemic. This proposal is detailed at  https://www.accgov.com/DocumentCenter/View/67441/A-Proposed-Athens-Clarke-County-Resiliency-Package
 
The Economic Development department asks local business owners to participate in this survey to determine how the COVID-19 responses are impacting you: www.accgov.com/cvbusinesssurvey.
 
The Athens Area Chamber of Commerce has compiled a wide range of information, guidance, resources and support for local businesses. The information ranges from a list of webinars for local business owners and workers to financial assistance to mental health resources.
 
The Athens Works Initiative aims to "flatten the curve" of local business losses by connecting those who continue to work with those who cannot. 
This new website is a collaboration by Kaptiv8 and the Athens Downtown Development Authority to provide updated information on business hours and offerings. There is a prominent link for businesses to submit information and request a free listing.
 
Facebook Groups, Local
Nuçi's Space launches a relief fund to provide financial assistance for those in the music industry affected by COVID-19. This is a restricted fund and will be distributed directly to those who have lost work due to venue closures and tour & festival cancellations. In addition to musicians, there are many behind the scenes who are suffering and we aim to help them through this difficult time https://www.nuci.org/garrie-vereen-emergency-relief-fund/
State Resources
 
The Georgia Chamber of Commerce has compiled information from Governor Kemp's Office, the Georgia Department of Labor, the U.S. Small Business Administration and the U.S. Chamber.
The GDOL is providing updated and more flexible online access to unemployment services, partial claim access for employers, and other reemployment services.
The GRA's COVID-19 landing page remains the best place to find the most up-to-date information for Georgia's restaurants. This page contains links to several useful resources including a chart with local executive orders (curfews, off-premise sales allowances, etc.), a list of upcoming and past webinars, a compilation of state and national industry news, and helpful information for both owners/operators and restaurant workers.
Food service workers in Georgia who have been diagnosed with COVID-19 and/or those who are under doctor's orders for a mandatory quarantine can apply for help through the Giving Kitchen. Food service workers experiencing hardship who do not meet these criteria may still be eligible for resource referrals through their Stability Network. Information on assistance applications and other resources from The Giving Kitchen are available at https://thegivingkitchen.org/covid19
The Institute has compiled an extensive list of government and other COVID-19 resource sites.
Wholesome Wave Georgia is a statewide nonprofit that connects food-insecure Georgians with fresh healthy food choices through partnerships with local farms, markets, and community partners. Wholesome Wave Georgia also offers free SNAP (food stamps) assistance over the phone including screenings, enrollments, and renewals.
Travel Industry Resources
The AHLA has established a "Hospitality for Hope" Initiative to connect hotel properties with the health community who may be struggling to find housing and support as the COVID-19 public health crisis grows.
In the wake of the impact of COVID-19 on the hospitality industry, AAHOA is bringing you a series of webcasts that will keep you informed and help determine next steps for your business. The series will cover a wide range of topics, including government and local regulations and their implications, proper cleaning and sanitization procedures, how to handle delays in construction and hotel openings, how to get approved for financing in this current situation and how to approach your lender for concessions on existing financing, and so much more. AAHOA is making these webcasts available to the industry, so be sure to share with those in your network, whether they're an AAHOA Member or not. 
https://www.aahoa.com/advocacy/disaster-preparedness
 
Destination Analysts is tracking and publishing key consumer perceptions, attitudes and behaviors through unbiased, expert-designed research, in order to help the travel, tourism and hospitality industries form strategy and communicate through the COVID-19 crisis. As an independent, third-party research company, you can trust that the information we provide you is not motivated or directed by any advertising or marketing agency.
.Key findings and things to know will be released every Monday at 8:00am ET and you can sign up to receive updates.
The trade organization is keeping its Coronavirus Resource Page up to date with industry updates and is working closely with partners and members to offer  timely webinars with industry updates.
Facebook Industry Groups
Active exchange of COVID-19 emergency  information from throughout the tourism industry in both these groups:
Comprehensive resources for the travel industry are available within their COVID-19 Tool Kit, including impact of the CARES Act on tourism. Sign up for their email updates.
National Resources
Center for Disease Control and Prevention
The Centers for Disease Control and Prevention (CDC) has created a series of one page "decision tree" documents for businesses and workplaces to help guide them as they make decisions on whether or not to open and how to protect vulnerable workers.
Workplaces 
Restaurants & Bars 
Schools & Childcare - Camps

Restaurant Resources
"Diners, Drive-Ins and Dives" host Guy Fieri has raised more than $21 million in partnership with the National Restaurant Association, to providing laid-off restaurant workers with $500 grants — more than 40,000 of them so far. Fieri is not the only person making an effort: Nation's Restaurant News has compiled a list of funding sources available to restaurant workers.

Restaurant Workers Community Foundation
The RWCF has formed a COVID19 Crisis Relief Fund and is also maintaining a list of resources and updates for restaurants and workers coping with the current situation.
 
Sam Adams Restaurant Strong Grants
Samuel Adams and the Greg Hill Foundation are offering $1,000 grants to restaurant workers in 20 states, including Georgia.
REQUIREMENTS:
Full-time restaurant employee (Min. 30 hours/week, can be multiple restaurants)
Employed for 3 months or longer at the same location
Worked in a restaurant, bar, cafe or nightclub
Submit the last two pay stubs received
 
The SBA has announced the availability of targeted, low-interest disaster recovery loans to small businesses severely impacted by coronavirus,
Full information is available at the SBA website.
 
Tips and advice for businesses from the SBDC: https://news.uga.edu/sbdc-tips-small-businesses-consumers/
Small Business Recovery resources including webinars focusing on navigating the CARES Act: https://www.georgiasbdc.org/georgia-small-business-recovery/


United Way COVID-19 Community Response Fund
United Way Worldwide has created the COVID-19 Community Response and Recovery Fund. The Fund supports communities struggling in the wake of the new virus, by supporting local United Ways and 211, the go-to information resource in times of crisis. 
 
Supporting You on our Blog
#SupportAthensOwn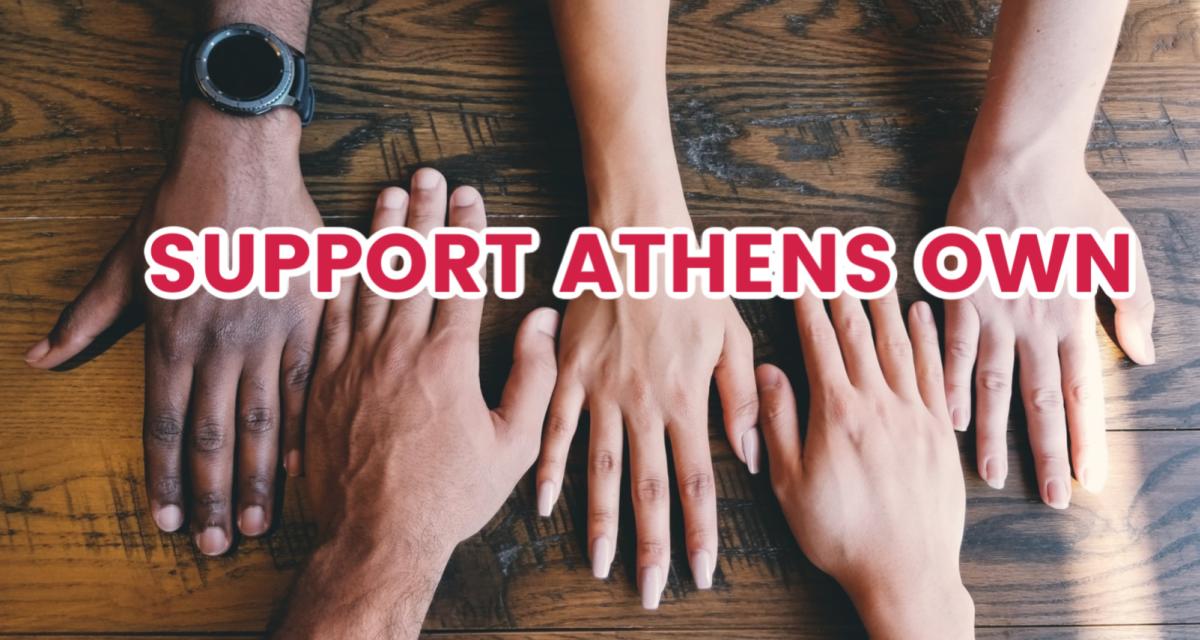 We encourage you to look for ways to #SupportAthensOwn on social, including our new Facebook Group. We'll be posting updates there (live streaming, anyone?) and look forward to hearing live music playing again throughout Athens!