Normaltown
Explore your retro hipster side in Normaltown, an up and coming stylish Athens neighborhood that is anything but normal. Normaltown is named for the former State Normal School for teacher education. The Normal School campus was used as a Navy Supply Corps School from 1954 - 2010 and is now the site of the Health Sciences Campus of the University of Georgia.  
From a classic cocktail or brew at The Old Pal, Hi-Lo Lounge, or Normal Bar to unique, delectable donuts at Ike & Jane and Mary Frances' chicken salad at Marti's at Midday, Normaltown can satisfy any sweet tooth or craving.  Take on a new project with old-fashioned help and supplies from Normal Hardware. Browse at Normal Books.
Where it's at: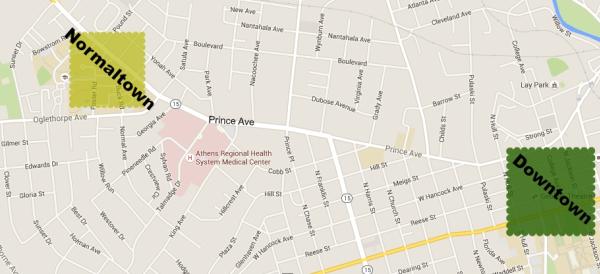 Normaltown is located at the intersection of Prince Avenue and Oglethorpe Avenue just a bit farther down Prince Ave. past the Boulevard and Cobbham neighborhoods.
Here are a few must-sees while visiting Athens' Normaltown neighborhood:
Explore More of Normaltown & Prince Ave. - Listings