Athens Beer Trail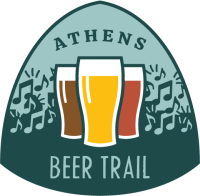 Athens, Georgia, is many things: the birthplace of public higher education in America, home to hundreds of bands, center for top college sports action, and a diverse and vibrant arts and food scene.
Athens has also quietly become The All-American Beer Town.
The Athens Beer Trail gives you the opportunity to visit local breweries to discover their individual approach to craft beer. Along the way, we guarantee you'll find new flavors, new friends, and enjoy the Athens creative vibe. The Athens Beer Trail is the newest beer getaway and adventure in the south -- so, grab your friends and head to Athens for good times and great beer.
How it Works:
Drink Beer. Get Stamps. Earn Stuff.
It's not every day you get prizes for drinking beer. But, lucky for you, this is how we do things here on the Athens Beer Trail.
It's as easy as 1 - 2 - 3!
Get Your Guide: Walk up to the bar at any of the breweries and let a taproom staff member know you're traveling the Athens Beer Trail. If it's your first stop, they'll hand you the Athens Beer Trail Field Guide. The Guide is also available at the Historic Athens Welcome Center. Check out a preview of the Guide here.
 
Get Stamps: Then, they'll stamp your Trail Guide on their feature page. Take your Trail Guide to additional breweries and get more stamps along the way as you move one step closer to earning your very own Athens Beer Trail Mug at the end of your journey!
 
Get Your Swag: When you've collected all six brewery stamps, take your fully stamped Trail Guide to the Historic Athens Welcome Center at 280 East Dougherty St. any day of the week between 10 AM and 5 PM and receive a keepsake item to remember your travels and solidify your new title as a member of the #AthensBrewCrew. The current prize is a commemorative pilsner glass.
Take an Athens Beer Tour!
Athens Beer Trail Map
Set out along the Athens Beer Trail to discover great beer and good times. Click on each brewery label on the interactive map to learn more about the brewery, including address, directions, and more!
Visit These Athens Breweries
Perfect Pairings: Things to do While in Athens
Come for the beer, stay for the fun! Athens is a town full of creative energy, with plenty of ATHventures to be had for all ages.
Brewery Events & Happenings
BOOK YOUR ROOM!
With six breweries along the Athens Beer Trail, great restaurants, live music, an amazing arts scene, and plenty of special events, Athens has so much on tap for your next getaway. Book your room and you'll be all set to spend a few escapist days in Athens!
Beer: The Athens Way
The history of Athens craft brewing is much like the actual beer itself –– rich, complex, full of life and only made possible by a dedicated and passionate community. Check out this eight-minute short film to "meet" key players who helped grow the local Athens beer scene "low and slow."