Foodies Love Athens!
Athens, Georgia,  is a rising star on the food scene.
Food critic Krista Reese, in presenting Georgia Trend magazine's Silver Spoon Awards,
has high praise for Athens, saying:
"In Georgia, only Athens comes to mind as having some potential to reach that kind of goal [an authentic dining scene in which the restaurants drive a tourist industry,] with its many inexpensive but high-quality restaurants, walkable downtown and generally amiable lifestyle. Why? Surely relatively inexpensive real estate is a part of the formula, but it can't hurt that all are college towns, offering a plentiful supply of entrepreneurial young people who seem to egg each other on. Nor can it be an accident that a nearby enclave of culinary-minded farmers supplies and inspires those young chefs with labor-intensive but long-term vision for organic produce and humanely raised livestock and poultry on sustainable small farms."
James Beard Foundation Honorees: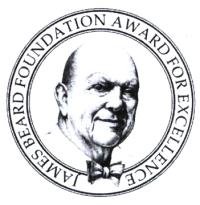 Hugh Acheson, chef/owner of Five and Ten:
"Best Chef: Southeast," 2012
"Best Cookbook: A New Turn in the South," 2012
Weaver D's: 
"America's Classics" Award, 2007
More Award-winners:
Hugh Acheson: Top Chef Masters contestant and judge for Top Chef and Top Chef Masters, Bravo TV
Silver Spoon Award, Georgia Trend magazine, 2013
Hugh Acheson: "Best Chef: Southeast," and "Best Cookbook: A New Turn in the South," 2012,  James Beard Foundation
Hugh Acheson:  Rising Star of American Cuisine Guest Chef, James Beard Foundation
Hugh Acheson: 2007 Rising Star and 2012 winner of the Mentor Chef award, StarChefs.com
Steve Grubbs, Top Sommeliers of the Year, Food & Wine, 2011
Restaurant of the Year, 2007, Atlanta Journal-Constitution
Hugh Acheson: "America's Best New Chefs," Food & Wine magazine, 2002
Wine Spectator Award of Excellence: 
East-West Bistro
Last Resort 
America's Best Vegetarian-Friendly Small Cities Award, GoVeg.com and Peta: