Athens Music Walk of Fame
Athens, Georgia, has been known for its music scene for decades and has spanned generations and many genres of sound. In September 2020, the community marked this iconic music heritage by installing the first group of honorees along the Athens Music Walk of Fame, a new attraction in downtown Athens that passes by some of Athens' most famous music venues such as the Georgia Theatre and the 40 Watt Club. The first 10 inductees include some familiar names such as R.E.M., the B-52s and the Drive by Truckers, but also provide a deeper look into Athens' music heritage with performers such as Hal Johnson, just waiting to be discovered.
Where is the Athens Music Walk of Fame located?
The Athens Music Walk of Fame is a two-square-block area in downtown Athens bounded by Pulaski Street, West Washington Street, North Lumpkin Street, and West Clayton Street. The walk passes several renowned music venues in western downtown, including the Morton Theatre, the 40 Watt Club, and the Georgia Theatre.
 
Map of the Athens Music Walk of Fame
Click the map for a larger, downloadable pdf version. An Athens Music Walk of Fame brochure also details the locations.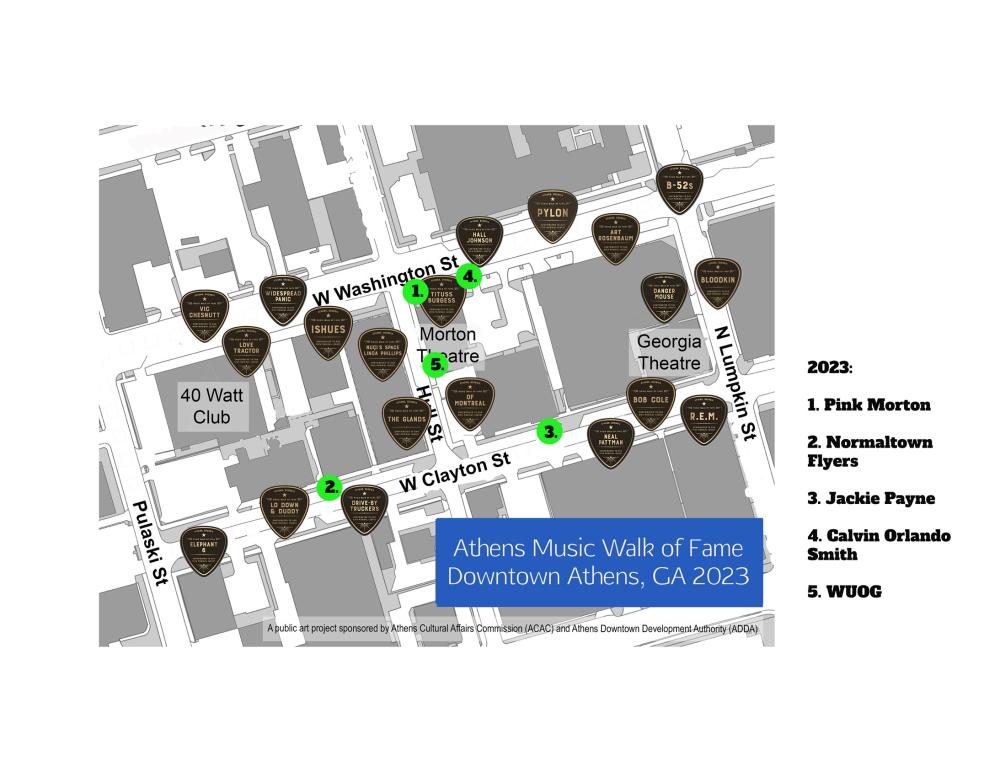 Get the Athens Music Walk of Fame app: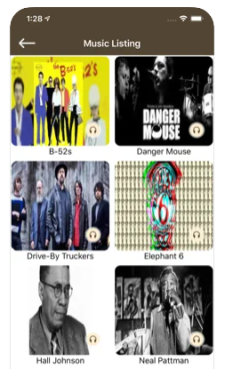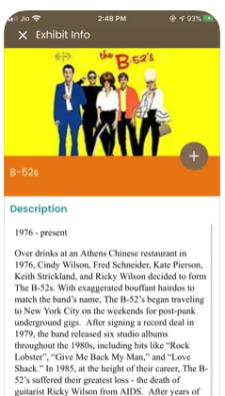 The Athens Music Walk of Fame offers a mobile app experience that uses proximity beacons to share specific sights and sounds associated with each honoree as users come within about 20 feet of the plaque.
2020 Athens Music Walk of Fame Inductees
The B-52s
One October night in 1976, fueled by some liquid courage, Fred Schneider, Kate Pierson, Keith Strickland, Cindy Wilson and Ricky Wilson formed what became one of the most-loved party bands of all time. New York City soon came calling, but Athens is where it all began.

Danger Mouse (Brian Joseph Burton)
Drawn to Athens to attend the University of Georgia, Burton came to prominence in 2004 when he released The Grey Album, which combined vocal performances from Jay-Z's The Black Album with instrumentals from the Beatles' The Beatles (aka the White Album). He formed Gnarls Barkley with CeeLo Green, and also produced four albums with The Black Keys. As of 2020, he has been nominated for 22 Grammy Awards and won six.

Drive-By Truckers
This alt country/Southern rock band was formed in Athens in 1996 by Mike Cooley (lead vocals, guitar, banjo) and Patterson Hood (lead vocals, guitar.) Cooley and Hood have collaborated with a number of talented band members over the years, including Jason Isbell, and they've amassed a large and loyal following for their tours.
 
The Elephant 6 Recording Company
Elephant 6 is a musical collective that created some of Athens' most notable indie bands of the 1990s, including Neutral Milk Hotel, of Montreal, and Elf Power. Elephant 6 recordings are known for their experimental, psychedelic sounds.
 
Hall Johnson
Born a century earlier than the other inductees, in 1888, Hall Johnson was a choral director and composer who dedicated his career to preserving African-American spirituals performed during the era of slavery.
 
Neal Pattman
Pattman was a blues musician, harmonica player, singer and songwriter born in 1926.

Sometimes called Big Daddy Pattman, he is best known for "Prison Blues" and "Goin' Back To Georgia."
 
Pylon
Formed in 1979 by UGA art students, Pylon became known for its new wave, post-punk sound and was a huge influence on other Athens bands and far beyond. R.E.M. always considered Pylon an influence, and in 1987, R.E.M.'s Bill Berry declined that his band was "America's Best," stating that Pylon should have that distinction.
 
R.E.M.
Arguably Athens' best-known band in terms of commercial success, R.E.M. was formed in 1980 by drummer Bill Berry, guitarist Peter Buck, bassist Mike Mills, and lead vocalist Michael Stipe. They soon became synonymous with alternative rock. They went on to sell over 90 million albums before disbanding in 2011.
 
Vic Chesnutt
Chesnutt released 17 albums during his career, including two produced by Michael Stipe. His musical style has been described by Bryan Carroll of allmusic.com as a "skewed, refracted version of Americana that is haunting, funny, poignant, and occasionally mystical, usually all at once"
 
Widespread Panic
Widespread Panic may be the most loved touring band of the past decade. Their 1998 album release concert in downtown Athens drew a reported 100,000 "Spreadhead" fans, and they have sold out 60 consecutive appearances at Red Rocks Amphitheater and eight headline performances at Bonnaroo.
 
2021 Athens Music Walk of Fame Inductees
The five new inductees for the Athens Music Walk of Fame are:
Bob Cole – Born in Athens in 1868, Cole was a national figure around the turn of the 20th century, best known for collaborating with brothers J. Rosamond and James Weldon Johnson on over 200 compositions. Cole helped elevate vaudeville performance beyond minstrelsy and stereotyping towards the sentimental, romantic, and elegant.

Lo Down & Duddy – Groundbreakers of local hip hop, this duo helped put Athens on this genre's map with appearances on national television with David Letterman, collaborations with Bubba Sparxxx, Timbaland, Yung Joc, and tours with musicians such as Blink-182 and Maroon 5.

Nuçi's Space/Linda Phillips – Phillips founded Nuçi's Space in memory of her son in 2000 with the mission to prevent suicide. With a focus on musicians, the organization advocates for and helps alleviate the suffering of those living with a brain illness. Standing in the shadow of the famed St. Mary's steeple, on the eastern edge of downtown Athens, Nuçi's Space maintains a health and resource center for musicians. The building is home to low-cost rehearsal spaces, subsidized health care, youth programs, a recording studio, and a safe space to seek support and guidance.

of Montreal – Lead performer and songwriter Kevin Barnes has solidified of Montreal's reputation by releasing an album per year for over two decades; still active and touring, they have become a mainstay in psychedelic pop nationally while continuing to call Athens home.

Art Rosenbaum – Known also as a visual artist, University of Georgia professor emeritus, musician, and folklorist Rosenbaum has documented Athens-area and other traditional musicians around the country, winning a 2008 Best Historical Album Grammy award for his Art of Field Recording Volume I: Fifty Years of Traditional American Music Documented by Art Rosenbaum.
2022 Athens Music Walk of Fame Inductees
The five new inductees for the Athens Music Walk of Fame are:
Bloodkin - Danny Hutchens and Eric Carter arrived in Athens in 1986. Already musical partners, they formed Bloodkin and created music beloved in Athens and beyond for the next 35 years. During that time, they released 8 studio albums and a 5-disc boxed set of outtakes. Their songs have been covered by many artists, most notably fellow Athens Walk of Famers, Widespread Panic, including a top 40 Billboard single, "Can't Get High." Danny Hutchens died in 2021. Eric Carter continues to make music as Bloodkin, with a rotating cast of respected musicians.
Tituss Burgess – Born and raised in Athens, attending Cedar Shoals High School and graduating from the University of Georgia's School of Music, Tituss Burgess is an award winning singer, actor and theater performer best known for his high tenor voice and his leading role on the Unbreakable Kimmy Schmidt, for which he received five Primetime Emmy Award Nominations. A veteran of the stage, Burgess made his Broadway debut in 2005 as Eddie in Good Vibrations. Since, he has held many memorable roles on the Broadway stage including Hal Miller in Jersey Boys, Sebastian the Crab in The Little Mermaid, and Nicely-Nicely Johnson in the 2009 revival of Guys and Dolls.
The Glands - There are some artists whose influence is not so much in having hit records, but in influencing other artists. Such is the case with the Glands. Their two original studio albums, Double Thriller (1997) and The Glands (2000) were indie rock classics. In 2018, two years after the passing of band leader Ross Shapiro, New West Records released a box set titled I Can See Your House from Here that included remastered vinyl versions of the two original albums, and a new 23-track album, Double Coda. A posthumous NPR Music review stated, "Shapiro built hooks that betrayed both sardonic armor and a soft heart. Lively but nonchalant, the band stood on the accelerator, even as the frame rattled to pieces."
Ishues – Deemed one of the 'architects' of the local hip hop scene, rapper Ishues (born Ismeal Cuthbertson) has toured the world from California to South Africa, representing Athens, performing with legendary acts like KRS-One. In addition to his contributions to music, he's dedicated to the community, serving as a co-founder of local youth organization, Chess and Community. After a hiatus from music, Ishues continues to record and collaborate with emerging artists.
Love Tractor - Founded in 1980 by guitarists Mark Cline and Mike Richmond, and bassist Armistead Wellford, students at the University of Georgia, Love Tractor are veterans of Athens' new wave "golden era". The band re-formed in 1996 recording 2001's The Sky at Night and 2015's A Trip to the Museum. Their early albums have been reissued, nearly four decades after original release, proving their music to be not only important to the Athens scene's formative years, but timeless as well.
2023 Athens Music Walk of Fame Inductees
Monroe Bowers "Pink" Morton - (July 31, 1856 – February 12, 1919) was a prominent building owner, publisher, building contractor, developer, and postmaster in late 19th-century Georgia. An African American, he lived most of his life in Athens, Georgia, where he published a newspaper and built the Morton Building. The building included the Morton Theatre on its upper floors, a vaudeville venue, and offices for African-American professionals including doctors and pharmacists on its ground floor. His theater, sometimes referred to as Morton's Opera House, hosted many prominent African American performers including from New York City's Cotton Club. Performers at the theater included Duke Ellington, Bessie Smith, Ma Rainey, Louis Armstrong and Cab Calloway.

Normaltown Flyers – The Normaltown Flyers have been playing their good time/up tempo music since 1979. Band members are Brian Burke (vocals, acoustic and electric guitars), Tom Ryan (bass, vocals, and saxophone), Davis Causey (electric guitar and vocals), along with newer additions Deane Quinter (on drums and percussion) and Tim White (keyboards). Through the years John Keane (of John Keane studios) has been very instrumental in helping the band with recordings and occasionally joins them on stage. The Flyers gained popularity with their regular performances at Allen's in Athens, Georgia and in other regional venues. In 1989 they attracted the attention of legendary Nashville producer Harold Shedd. Harold signed the band to Mercury/Nashville in 1990. They produced two CDs and two excellent videos for "Rockin' the Love Boat" and "Country Boy's Dream."

Jackie Payne – (b. 1945) is an American blues singer. Payne was born in Athens, Georgia. He trained as a singer in his father's gospel choir and learned the blues from his uncle, Neal Pattman, who played harmonica. By the age of 13, he was singing professionally with the Allen Swing Band in Atlanta. He later joined an R&B group called The Serenaders. He moved to Houston, Texas in 1963, at the age of 17, and recorded his first regional hit, "Go Go Train" on the Jetstream label in 1965. He was nominated in both 2007 and 2008 for the Blues Music Award for Best Male Soul Blues Artist; an album he recorded with Johnny Otis was nominated for a Grammy Award in 1993.
Calvin Orlando Smith – a graduate of Cedar Shoals High School and the University of Georgia, Calvin Orlando Smith went on to be the first African-American accepted into Cambridge University's prestigious Department of History of Art and Architecture and receive a degree. As a performer, he has performed in three Broadway productions and appeared in seven national, international and or limited tours. Mr. Smith has worked regionally for 40 years as a member of the Actor's Equity Association and shared the stage with Morgan Fairchild, Cathy Rigby, Florence Henderson, Ben Vereen, JK Simmons, Isaac Hayes, the New Kids on the Block and most recently, Garth Brooks. In June 2022, he made his Carnegie Hall debut in Brahms' "Requiem".
WUOG – WUOG 90.5 FM is the University of Georgia's alternative college radio station. It is an all-student, all-volunteer, non-commercial station, first broadcast on October 16, 1972, now celebrating over 50 years of operations. On February 21, 2009, the lobby of the WUOG station inside of the Tate Center was named in honor of Wilbur Herrington for his service as station engineer since the station's first broadcast in 1972. It was on WUOG that R.E.M. were first broadcast; a live recording of "Hippy, Hippy Shake" was played in the summer of 1980. Drummer Bill Berry was also in a short-lived combo of radio personalities from the station, known as the WUOGerz. WUOG offers regular rotation programming as well as specialty shows. The program "Live in the Lobby," broadcast on Tuesday and Thursday each week, features live on air in-studio sessions from local Georgia musical artists.