Athens Music Walk of Fame
Athens, Georgia, has been known for its music scene for decades and has spanned generations and many genres of sound. As of September 2020, the community has marked this iconic music heritage with the Athens Music Walk of Fame, a new attraction in downtown Athens that passes by some of Athens' most famous music venues such as the Georgia Theatre and the 40 Watt Club. The first 10 inductees include some familiar names such as R.E.M., the B-52's and the Drive by Truckers, but also provide a deeper look into Athens' music heritage with performers such as Hal Johnson, just waiting to be discovered.
Athens Music Walk of Fame Map
The Athens Music Walk of Fame is a two-square-block area in downtown Athens bounded by Pulaski Street, West Washington Street, North Lumpkin Street, and West Clayton Street. The walk passes several renowned music venues in western downtown, including the Morton Theatre, the 40 Watt Club, and the Georgia Theatre
The Walk of Fame will soon be accompanied by a mobile app that uses proximity beacons to share specific sights and sounds associated with each honoree as users come within about 20 feet of the plaque. An Athens Music Walk of Fame brochure also details the locations.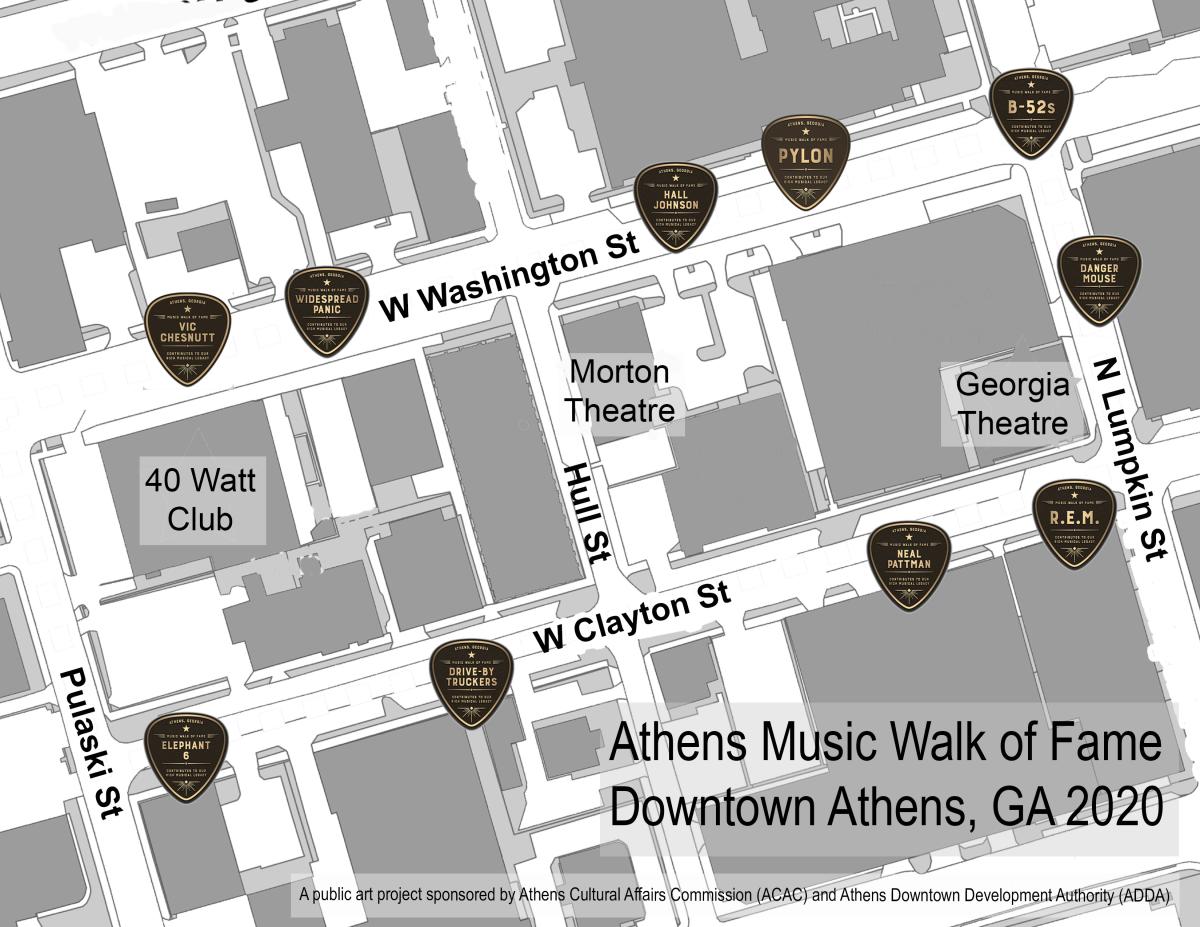 2020 Athens Music Walk of Fame Inductees
The B-52s
One October night in 1976, fueled by some liquid courage, Fred Schneider, Kate Pierson, Keith Strickland, Cindy Wilson and Ricky Wilson formed what became one of the most-loved party bands of all time. New York City soon came calling, but Athens is where it all began.

Danger Mouse (Brian Joseph Burton)
Drawn to Athens to attend the University of Georgia, Burton came to prominence in 2004 when he released The Grey Album, which combined vocal performances from Jay-Z's The Black Album with instrumentals from the Beatles' The Beatles (aka the White Album). He formed Gnarls Barkley with CeeLo Green, and also produced four albums with The Black Keys. As of 2020, he has been nominated for 22 Grammy Awards and won six.

Drive-By Truckers
This alt country/Southern rock band was formed in Athens in 1996 by Mike Cooley (lead vocals, guitar, banjo) and Patterson Hood (lead vocals, guitar.) Cooley and Hood have collaborated with a number of talented band members over the years, including Jason Isbell, and they've amassed a large and loyal following for their tours.
 
The Elephant 6 Recording Company
Elephant 6 is a musical collective that created some of Athens' most notable indie bands of the 1990s, including Neutral Milk Hotel, of Montreal, and Elf Power. Elephant 6 recordings are known for their experimental, psychedelic sounds.
 
Hall Johnson
Born a century earlier than the other inductees, in 1888, Hall Johnson was a choral director and composer who dedicated his career to preserving African-American spirituals performed during the era of slavery.
 
Neal Pattman
Pattman was a blues musician, harmonica player, singer and songwriter born in 1926. Sometimes called Big Daddy Pattman, he is best known for "Prison Blues" and "Goin' Back To Georgia."
 
Pylon
Formed in 1979 by UGA art students, Pylon became known for its new wave, post-punk sound and was a huge influence on other Athens bands and far beyond. R.E.M. always considered Pylon an influence, and in 1987, R.E.M.'s Bill Berry declined that his band was "America's Best," stating that Pylon should have that distinction.
 
R.E.M.
Arguably Athens' best-known band in terms of commercial success, R.E.M. was formed in 1980 by drummer Bill Berry, guitarist Peter Buck, bassist Mike Mills, and lead vocalist Michael Stipe. They soon became synonymous with alternative rock. They went on to sell over 90 million albums before disbanding in 2011.
 
Vic Chesnutt
Chesnutt released 17 albums during his career, including two produced by Michael Stipe. His musical style has been described by Bryan Carroll of allmusic.com as a "skewed, refracted version of Americana that is haunting, funny, poignant, and occasionally mystical, usually all at once"
 
Widespread Panic
Widespread Panic may be the most loved touring band of the past decade. Their 1998 album release concert in downtown Athens drew a reported 100,000 "Spreadhead" fans, and they have sold out 60 consecutive appearances at Red Rocks Amphitheater and eight headline performances at Bonnaroo.