ATHENS, GA (November 20, 2018)-- The Classic Center is proud to partner with the Ashton Hope Keegan Foundation to help give local children the Christmas they deserve. The Ashton Hope Keegan Foundation is a non-profit organization that helps women receive the tools they need to lead a success life. The purple and white Christmas tree located in the main lobby next to the ATM machine is decorated with various children's names. The tags will have the child's name, age, and size listed who are in need in our community.
For those who are willing and able to help this is what you need to do: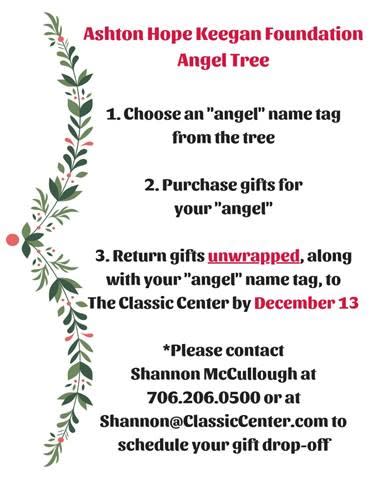 It doesn't take much to make a child smile on Christmas!  Anything – whether great or small – is greatly appreciated! If we all choose just one "angel" each, that would be almost the entire tree!  And this isn't excluded to just our staff – please share this with your family, friends and the entire community. We'd love to have gifts for every single "angel" on the tree. The tree will be moved around to various events between now and December 13 (i.e. Broadway receptions, Breakfast with Santa, etc.), but it's primary home will be where it is now.
Please let Shannon or myself know if you have any questions. And if you do purchase gifts, please be sure to bring them to either Shannon or myself and we will schedule a pick-up.
Thank you so much and MERRY CHRISTMAS!
Ashley Crain
Media Relations Manager |The Classic Center
300 N. Thomas St. | Athens, GA 30601
706.357.4414