Athens, GA Cycling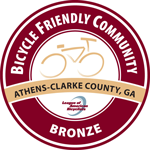 Athens is a welcoming vacation spot for cycling and has been named a Bicycle-Friendly Community by the League of American Bicyclists. Local Athens bike shops provide superior knowledge and service, plus organized rides and educational opportunities. Athens cycling clubs organize group rides at all skill levels- from fast-paced to beginner-friendly no-drop rides. Bike Athens hosts monthly group rides and plenty of other opportunities for cyclists looking to get more involved in improving the Athens biking environment.
Where Can I Bike in Athens?
There are a number of cycling trails in Athens, including:
Walker Park, for mountain biking. Formerly known as Trail Creek Park, the trails are designed and maintained to the highest standards.
 
Firefly Trail, for all types of non-motorized transportation, making use of a Rails-to-Trails network that will eventually span 39 miles.
 
North Oconee River Greenway, a shady spot for biking, as well as walking and jogging.
See the Athens cycling trail listings below for more bicycling information and resources!
Did you know?
Athens is also home to a premier event on the professional cycling circuit, the Twilight Criterium. Held the last weekend of April for the past three decades, racers and spectators alike revel in the breakneck pace of the evening race through historic streets of downtown Athens. Bicycle races throughout the weekend offer a chance for all ages to get in on the competition!
Cycling Scenes