Boulevard
Located north of Prince Avenue just 1/3 mile from downtown, Athens' Boulevard neighborhood is a streetcar suburb founded in the late 19th century. This area takes you back to a simpler time with rustic, warehouse exteriors and a touch of contemporary art.  There are not one but two coffee roasters: visit Jittery Joe's and 1000 Faces for a behind-the-scenes view of roasting.  Browse through art galleries at ATHICA, and see an aerial arts performance at Canopy Studio.  Restaurants known for fresh, local flavors include Heirloom and Pulaski Heights BBQ.
Where it's at: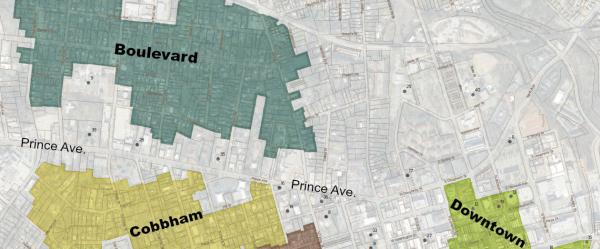 From Downtown Athens, follow Prince Avenue just 1/3 of a mile.
Barber Street on the north (right) side of Prince Avenue is the start of the Boulevard district.
Here are a few must-sees while you are exploring Athens' Boulevard neighborhood: