Where to Park and Tailgate Before a UGA Football Game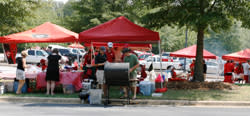 Want to score a prime parking spot for tailgating before the Georgia Bulldogs home games?  Here are some UGA football gameday parking options in Athens, Georgia that will put you close to all the pre- and post-game action. Don't miss all the football Saturday fun -- 'cause we all know that SEC tailgating is the BEST tailgating in the country!
*2020 Update: We know, we know. Football looks a little (well, a LOT) different this year. UGA and Athens want football fans to Go Safely this season. If you're headed to the stadium, wear your mask. If you're watching from a bar or restaurant's outdoor patio, bring your mask there, too.
Read our 2020 Football Fan FAQ for all the details and changes as they become available.
Top Tailgate Spots on the  UGA Campus:
UGA has announced restrictions on tailgating in 2020. Please check out off-campus spots instead.
UGA's Historic North Campus and Herty Field: You'll be near where it all began, as Herty Field is the site of the early UGA football games. Movers & shakers wine and dine and socialize here. It's beautiful, and shady, and due to the historic nature has some tighter regulations on noise and trash than some other spots. This is a good spot for families.

Central Campus: There's reserved parking and prepaid tailgate services for those who don't want to pack all their own gear. 
 
South Campus: With plenty of room to spread out, some of the largest and oldest tailgate groups have staked their claim in these spots for years and years. Music and tv broadcasts of other games vie for attention with grilling and cornhole.
 
Intramural Fields: Many RVers love this area, as well as others who like plenty of space and a shuttle to and from the stadium. Tip: These are some of the last-to-fill-up spots for those who don't have season parking, and the shuttles are very convenient back to the parking lot, which in turn is right next to the Bypass for an easy escape after the game.
Top Tailgate Spots Off Campus:
Downtown Athens: You'll love being in the middle of all the buzz downtown, with pregame broadcasts, corporate promotions and plenty of shops and restaurants to keep you occupied. 
 
The Classic Center: In Downtown Athens, The Classic Center is a very short walk to the stadium, and offers plenty of conveniences and amenities. A range of parking and tailgate packages are offered.
 
Private Tailgate Parks: Want to always know where your spot will be and have it ready and waiting for you, along with amenities? Consider investing in a private tailgate facility like Tailgate Park and Bulldog Station.
KNOW BEFORE YOU GO:

UGA and Sanford Stadium follows the SEC's Clear Bag Policy. The last thing you want to be faced with is the option of tossing your purse or hiking back to your car.
Search Athens Football Parking and Tailgating
More Football Fun