Black Heritage in Athens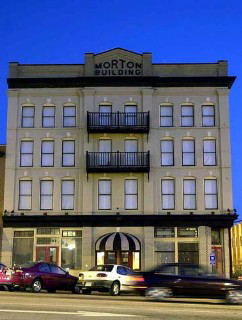 Black heritage runs deep in Athens, Georgia. Hot Corner, at the corner of Washington and Hull Streets, was an early center of black commerce, including the dental offices of Ida May Hiram, the first African American woman to pass the Georgia Dental Board exams. Also at Hot Corner is The Morton Theatre (1910, at 195 W. Washington St.), one of the oldest surviving vaudeville theatres built, owned, and operated by an African American, Monroe Bowers "Pink" Morton. The theatre hosted such notables as Duke Ellington, Cab Calloway, Bessie Smith, and Louis Armstrong. The Morton is fully restored and is available to tour, in addition to hosting a full schedule of performances.
Hot Corner  has recently been immortalized in the "Hot Corner Legacy" mural, installed in 2019. Miami-based artist Elio Mercado, along with local artist Broderick Flanigan, worked on the mural together.
Pink Morton is one of many prominent African Americans laid to rest at Gospel Pilgrim Cemetery, founded in 1882 and placed on the National Parks Service National Register of Historic Places. After decades of disrepair, restoration is well underway. Gospel Pilgrim Cemetery is located at 530 Fourth Street. Visit the website!
Don't Miss These Athens Black Heritage Attractions
Other notable black heritage sites in Athens:
First African Methodist Episcopal Church (est. 1866), 521 N. Hull St.
Chestnut Grove School (1896), one-room schoolhouse, 610 Epps Bridge Parkway
Athens High and Industrial School (1913), Georgia's first four-year African American high school, 496 Reese St.

GROUP TOURS:
Group tours of these - and more - sites, are available with advance notice through Historic AthensTours, 706-208- TOUR.