The Tree That Owns Itself
One of Athens' most beloved residents, and roadside wonders, is the Tree that Owns Itself. This stately white oak resides at the corner of Dearing and Finley Streets, at the edge of downtown Athens. It is an unusual property owner, as it pays no taxes!
History of The Tree
According to a legend first printed in the local newspaper on August 12, 1890, Colonel William H. Jackson's will deeded the tree possession of itself and all the land within eight feet of its trunk. Is this deed legally binding? We're not sure, as no one has ever contested the tree's property rights.

Today's tree is actually a "junior." The original giant oak, estimated around 400 years old, fell over during a wind storm on October 9, 1942. Not wanting the tradition to die, members of the Junior Ladies Garden Club of Athens were determined to replace the Tree. Garden Club members gathered acorns from the site and lovingly began growing a second-generation white oak to replace Colonel Jackson's beloved tree. In just four short years, on December 4, 1946, Junior Ladies members planted the sapling that stands tall today as the Tree That Owns Itself.
All of Athens is indebted to the Junior Ladies Garden Club for caring for the Tree. Two longtime members, Lovat Wilkins and Maryann Hodgson led the initial campaign to adopt the tree in the 1940s. Second and third-generation Club members are now helping look after the Tree that Owns Itself, to keep it healthy and the property clean. Being Stewards of the Tree is an integrated part of the Junior Ladies' Garden Club and its oldest continuing project.
The Tree's Famous Plaque

The inscription on the plaque reads: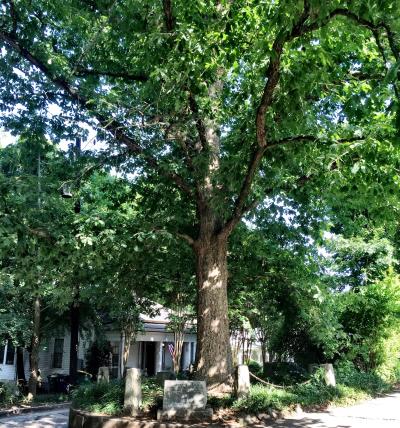 FOR AND IN CONSIDERATION
OF THE GREAT LOVE I BEAR
THIS TREE AND THE GREAT DESIRE
I HAVE FOR ITS PROTECTION
FOR ALL TIME, I CONVEY ENTIRE
POSSESSION OF ITSELF AND
ALL LAND WITHIN EIGHT FEET
OF THE TREE ON ALL SIDES
- WILLIAM H. JACKSON (c. 1832)
What to See & Do Near The Tree
After checking out this roadside wonder, we suggest the following activities and things to do while you're in the neighborhood!
Take a self-guided driving tour of the Milledge Avenue Historic District. Most of the University of Georgia's sorority houses are along this street, along with the historic Lucy Cobb girls' school and the Seney-Stovall Chapel. Tours are available for download through the Athens Welcome Center.
 
There are plenty of interesting shops and restaurants along this stretch of Broad Street, including: