Five Points
Five Points is a sophisticated, 1920s-era neighborhood with the perfect blend of traditional charm and retro flare. From cultured eating locales like Five & Ten that have gained national attention to the charming Two Story Coffee House, boutiques, and Five Points Bottle Shop and Five Points Growlers known for their expertise and selection, Five Points is the perfect place to spend some lovely hours in Athens.
Check out Forbes' take on how Five Points compares to Little Five Points in Atlanta. 
Where it's at: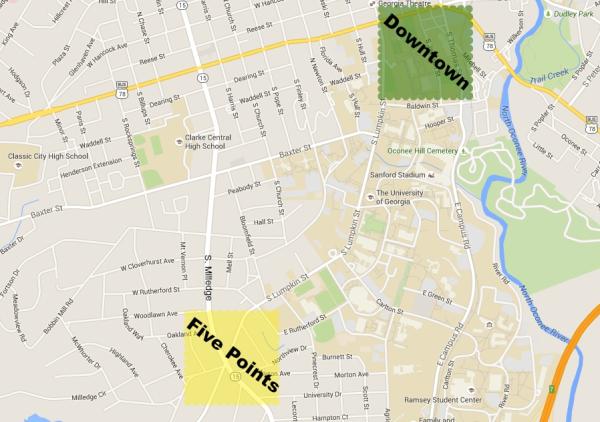 Five Points is centered at the intersection of S. Milledge Ave. and S. Lumpkin St. Head south on S. Lumpkin St. from downtown, 1.5 miles through the UGA Campus, Spec Towns Track and the Football headquarters and practice fields to Five Points.  Or, if you are on S. Milledge Ave., travel down its "Sorority Row" towards S. Lumpkin.
Here are a few must-sees while visiting Athens' Five Points neighborhood: