In the wake of Mother's Day, graduations, and preparing for summer vacation, Father's Day is sometimes swept under the rug.  With these easy to find products, things to do,  and fun bonding experiences found locally in Athens GA, show Dad just how special he is this Father's Day.
Father's Day Gift Ideas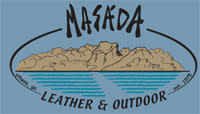 A great gift is creative and lasts for years to come.  Masada Leather provides beautifully handcrafted leather products that withstand the test of time.  From shoes, to belts, to a great leather wallet, there is something for every Dad this Father's Day.  As one of the few stores in the nation that still hand-crafts leather sandals, Masada leather is the definition of unique.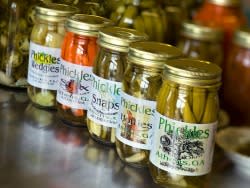 Spice up your average Father's Day gift with a phun treat from Phickles.  Perfect for any foodie, Phickles Phun Foods has a delicious family reciepe for pickling all types of veggies, including carrots, ocra, jalepenos, and, of course, pickles.  Phickles also offers a variety of new cheese spreads, including pimento cheese and the "hot mess" spread, which is a spicier alternative to your usual pimiento spread.  Give Dad the total Athens foodie experience by whipping up a great local dish.  Try grilling up a fresh burger and give it a kick with some pimiento cheese instead of your average cheddar.  Complete the meal by running by one of the many local markets for fresh meat and produce to really give this Father's Day dinner a local Athens twist.
3. Visual Arts Guild of Athens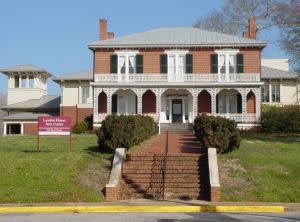 For a Dad that loves art, stop by the Visual Arts Guild of Athens for local handmade works.  Offering many different gift ideas from pottery and stained glass to local artwork, there's something for every art enthusiast.  For fathers that love the music scene, the Visual Arts Guild also sells CD's by local artists.  Support the arts with a gift that can only be found in the one and only Athens, Georgia.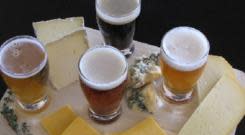 Activities 
 4. Local Craft Beer
Athens is home to three amazing local breweries:  Terrapin, Creature Comforts, and Southern Brewing Company. Terrapin offers free tours from Wednesday to Thursday and a beautiful backyard with live music. Buy dad a souvenir tasting glass for $10 and enjoy a great summer evening trying all that Terrapin has to offer. Children and pets are welcome to enjoy the music and atmosphere. Located in the heart of downtown Athens, Creature Comforts offers tours and tastings Tuesday through Saturday every week. Take Dad on a tour and then treat him to one of the many local restaurants found in the downtown area. Last but definitely not least is the youngster of the Athen's brewery scene, Southern Brewing Company. Let Dad be one of the first to try out the new brew by taking him on a tour and tasting Thursday through Saturday. Choose just one or take Dad on a tour of all three of the best breweries Athens has to offer.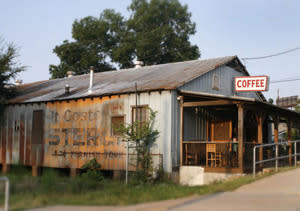 Some Dads just need that morning cup of joe to wake them up and tame the workday blues.  If this sounds like your Dad, perk him up with a trip to the Jittery Joe's Roasting Company and let him enjoy a fresh cup of Arabica coffee, or ask one of the Jittery Joe's Roasters for more information on the coffee creation process.  Pair this experience with a tin of his favorite jittery joes blend coffee, or have the kids hand-paint a coffee mug at a local pottery studio, such as Clayfully Created located on Broad Street.
6.  Memorial Park and Bear Hollow Zoo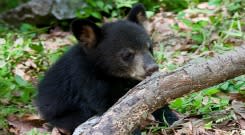 Memorial Park is the perfect destination for families on a budget this Father's Day.  Bring the kids to experience the Bear Hollow Zoo, a small park with bears, birds, and reptiles.  And the best part?  Free admission for all visitors.  Stop by on Saturday to experience the Open Exhibit hall, where kids can see live animals and learn about their care.  Follow this up with a hike of the one-mile Birchmore trail loop, using knowledge gained from the exhibition to site wildlife.  Pack a picnic lunch and enjoy the grounds, maybe even cooling off at the pool after a long day of adventure.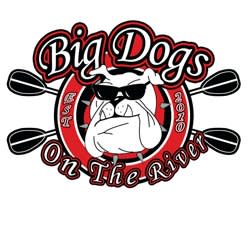 Enjoy the sunshine and cool off this Father's Day by taking Dad on a trip down the Oconee River.  Use the sunny forecast as an excuse to enjoy Athens natural beauty with a three-hour kayak trip.  Big Dogs is open Monday through Saturday for walk-ins and Sunday for large groups.  Price includes shuttle and all equipment necessary for a fun day on the river.  This trip is a relatively easy ride, great for beginners or experienced kayakers. 
8.  Sandy Creek Park and Lakeside Trail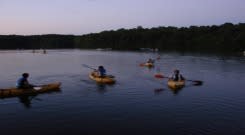 The perfect way to include "Man's Best Friend" in the Father's Day activities, Sandy Creek Park offers hiking, dog parks, and all sorts of fun outdoor activities.  Take Dad to explore Lake Chapman on the scenic Lakeside Trail, or rent a paddleboard, canoe, or kayak to beat the mid-summer heat.  Spend a few hours fishing or start a family game of disc golf before relaxing with a picnic lunch on the beautiful grounds.
9.  Rush Athens Trampoline Park
Add a little exercise into your Father's Day at this brand new Athens fun park.  Great for a Dad who's a little bit of a health nut, Rush Athens is a great way to add a workout into your usual Father's Day fun.   With an abundance of foam pits, trampolines, and dodge ball courts, Rush is a great place to bring the kids to celebrate Father's Day.  Rush Athens accommodates families with kids of all ages, with times for ages 15 and up and also special "Toddler Time" for families with young children.
10.  Leap Trapeze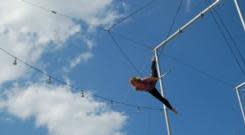 For those Dads that need a burst of adrenaline, Leap Trapeze is a high flying adventure he will never forget.  Beginners are welcome and encouraged to try this two hour course on the basics of trapeze.  Participants will begin by learning basic form and how to safely flip from the bar onto the safety net.  By the end of his first lesson, Dad will have a chance to fly just like the pros.  As an experience I shared with my own father, I highly recommend this adventure as a bonding experience he will never forget.  And the best part?  Dad can continue learning new moves each time he takes a lesson, allowing for this unique experience to become a Father's Day tradition.
From the coffee addict to the art enthusiast, Athens Georgia offers gift ideas and things to do for every type of dad this Father's Day.  So get out and get shopping, because June 21st is right around the corner.