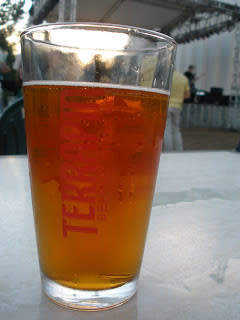 Honestly, I have never been able to truly appreciate a cold glass of beer. I find this unfortunate, since Athens has a variety of great breweries, bars, and pubs - all of which serve quality beer - and I feel like I have been missing out on a refreshing way to kick back and relax on a beautiful day.






I've resisted many of my friends' efforts to take me to breweries, mainly because I simply could not believe my taste

buds would ever be able to handle what I thought was a bitter beverage. So I was a bit hesitant about agreeing to my friend's proposal that we go to the

Terrapin Brewery

Tour and Tasting -- ultimately, I said yes because she was visiting from Atlanta and the price of the tour was only $10. Also, I've heard from friends, as well as through the Athens, GA website, that Terrapin beer is really good and the tour and tasting was a must-do while in Athens.




I'm so glad that I decided to go. Not only have I found a couple of beers that I actually like, but I was able to see what all the hype is about.




You begin by paying your entrance fee for the tour and receiving a stamp on your hand if you are

of drinking age. I wasn't aware of this earlier, but the $10 you pay includes a choice of glass cup that you can take home afterwards; pay an extra $2 and you receive a nice jar instead of cup. They also give you a handful of tickets to be used towards the tasting of the numerous beers they have on tap that day. In the same room, they have a lot of Terrapin paraphernalia and souvenirs, perfect as gifts for any beer-loving friends; you can opt to spend some time in there shopping around or you can go straight into the brewery.
Once you step inside the brewery, the smell of beer, both being made and being served, hits you. Now, if you aren't familiar with this smell, I don't want you to think that it is something gross or unwelcome; in fact, I was surprised at how pleasant I found it to be. Your senses are quickly overtaken; you hear the beats of the live music outside and see the groups of people coming in from outdoors to quickly get another taste of the beverage that is the center of attention here. And then, suddenly, your taste buds are telling you (yes, even me, who doesn't even like beer) to go up to that bar and start using your tasting tickets.
4 Tickets will get you a full glass, while 1 ticket will get you a small taste. My friend got 1 ticket worth of the peach beer, while I decided upon the pumpkin beer. Both flavors were absolutely delicious, and the perfect accompaniment to a fun and informative tour. The tour guide, like the rest of the guides and bartenders, are there purely for a love of beer. She enthusiastically shows us the inner workings of the brewery and lets us in on some fun facts -- if you thought the
Terrapin Brewery
was named after a turtle, you're wrong!
When the tour is over, you are free to get more beer (I went to get a full glass of the peach beer. It's my favorite!) and roam outside to enjoy the music and atmosphere. People bring their dogs and children to this exciting and social environment. The music is good, and the people are lively. My friend and I stayed for about an hour, pleased to have found such a great way to spend our Saturday late afternoon.
So, if you feel like you just can't enjoy beer, I would encourage you to head over to
Terrapin
and try it out. If you do enjoy beer and have already been, go again! It's a great price for a great time and great beer.
Now, for those of you that have had awesome beer experiences in Athens, I'd love to know about them! Where is the best place to go, and what is the best beer to try?
- Debbie