As a local resident of the Five Points area in Athens, I get to enjoy the picturesque charm of the neighborhood on a daily basis. Families walking hand-in-hand enjoying a beautiful day is an everyday siting, and there are always visitors of unique shops and restaurants laughing and enjoying the company of friends. After living the in Five Points for over a year, I finally decided it was about time I experienced all of the adventures of my area.
My exploration began with a productive study session at
Two Story Coffeehouse
. The sense-awakening aroma of coffee welcomed me as I opened the door, and I immediately realized why the coffeehouse was such a hot spot. Tucked away in the trees off of
Lumpkin
St., the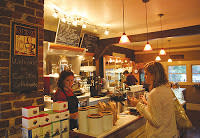 comfortable atmosphere and friendly staff provided me with an inviting local twist in comparison to the normally intimidating national coffee chains. The Athens feel of the establishment was relaxing, and I could feel the sense of community and local loyalty to the store. With a first floor and porch that are perfect for conversation and a peaceful second floor for a quieter environment, Two Story is the ideal place for both chit-chatters and book-readers.
Next stop?
Yoforia
of course. While this delicious frozen yogurt bar may be a national chain, the Five Points location has definitely become a newly recognized Athens landmark. Because of the immense popularity of the store, I even provide directions to my house based on the shop's location. No matter the time of day or day of the week, the corner of
Lumpkin
and
Milledge
is buzzing with friends and family enjoying their large cups of
Yoforia
treats. With its seasonal flavors, self-served portions, and endless choices of toppings, this dessert corner has provided five points with a delicious sweet tooth.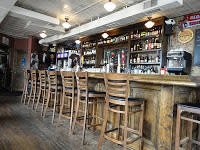 After brainstorming for a new place to grab dinner and catch some football on Saturday, my friends and I decided to visit the
Royal Peasant
. The uniqueness of the restaurant and bar had attracted our curiosity many times in the past, and the quaint version of a English pub surpassed our expectations. Everything from the decor to the food and drink menus provided an authentic English experience. The walls were full of English sports paraphernalia, highlighting team achievements, team photos, and spirited scarfs. Once glance at the menu, and guests know this is not a typical American establishment. With extensive beer selection, featuring both regional options and European choices, the drinking atmosphere is well-suited for the beer connoisseur and sports fanatic alike. The food also offered distinct European entrees, such as their fish as chips or bangers and mash. But the more American offerings are delicious as well. I personally enjoyed a cheese burger and left pleased and very full. All in all, the Royal Peasant is a delightful and one-of-a-kind neighborhood pub that is full of culture, beer, and scrumptious food.
Last on my list for the weekend - Sunday brunch at the fairly new Local Jam. Located in the former Five Points Deli storefront,
The Local Jam
offers a new breakfast and deli experience for the area. The restaurant opened this past summer, and everyone is beginning to take notice of the deli's Athens' vibe and delectably simple fare. Proudly supporting its community, The Local Jam serves its neighbors' products, such as Jittery Joe's Coffee and Alfred's Bread using Terrapin spent grain. The family-friendly feel of the restaurant provides a strong sense of community as well. Tables topped with paper for coloring and decorated with mini pumpkins for the season gives guests a light-hearted dinning environment. I know I personally found my inner child when I noticed a cup of crayons on my table and began doodling all over the brown paper table cloth. But, once my meal was served, I was too distracted by my amazing macaroni experience to even remember I hadn't finished my flower drawing. As what one would normally consider a seemingly effortless dish, the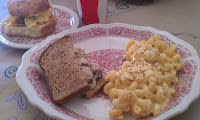 combination of twisted noodles and cheesy taste elevated the my well-crafted side into a full-blown macaroni experience. My dinning crew and I agreed- it was some of the best macaroni and cheeses we had ever tasted. The entire meal was simple and scrumptious, and I cannot wait to return to try out their more expansive breakfast and lunch menus.
The Five Points area has so much more to offer than just these locations. My Five Points experience will not be complete until I try the renowned culinary excellence at
5 & 10
and stop by some of the antique and clothing stores as well. What do you recommend trying around Five Points?