UPDATE, April 15:  UGA and Uga fans, get ready for G-Day with a painting project of Big Bad Bruce!  Tonight at 6:30 p.m.  Register
here
!

The idea of an art bar used to scare me. I have no artistic talent whatsoever and I thought adding any alcohol to the experience would lead to a muddle of paint on a canvas and a miserable experience. But I chose to face my fears on Saturday and try out Athens' new Pints and Paints with my friend Julie. By a landslide, it was the most fun I've had in a long time.
?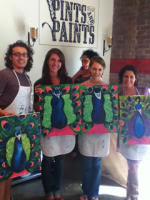 My Pints and Paints
peacock
?
I didn't go to exercise my amazing artistic ability (trust me, I have none), I went for the experience and was overwhelmed by how much fun I had thanks to the energy and laid back atmosphere. There was no pressure to create a masterpiece, I could tell that the owner Abby Denham really just wanted people to enjoy themselves. The "Pints" part comes from the option to drink a little to help you relax and let your creativity flow. We could choose from two different wines, champagne, beer, or soft drinks.
Everyone paints the same thing at the same time while the instructor went through each step slowly and answered all of our questions with encouraging advice. The three hours went by quickly while we were entertained by our surprising artistic talent.
If you are looking for something new to try in Athens, GA, I fully recommend Pints and Paints. Take a look at the
monthly calendar
to choose which painting you want to do. This is a great place for a fun night out, an adorable Athens date idea, or a private party for birthdays, weddings, reunions, and Greek life. Sundays are great days to take the whole family and Tuesday nights are only $20! So don't be afraid to give this place a try. I saw everyone leaving with huge grins and I personally can't wait to try it again! Pints and Paints is an amazing new addition to the Athens Georgia nightlife scene-- Check it out!
Pints and Paints
The Leathers Building
675 Pulaski St.
Suite 600
Athens, GA  30601
706-850-7200
Abby@PintsandPaints.com
??
?
??????
?
??