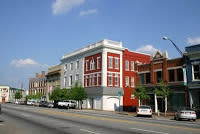 Fall is always bustling in Athens.
Bulldawg football
, along with the return of UGA students, draws an influx of visitors to the Classic City. Many visitors will be UGA parents eager to experience Athens with (or perhaps without) their kids. It is always great to share a beverage with Mom & Dad at a North Campus tailgate and cheer for the Dawgs side-by-side at Sanford. But what to do for a post-game activity? Or on those lazy Sunday-afters?  
Don't be fooled by the "college-town" label, Athens has something to offer everyone.