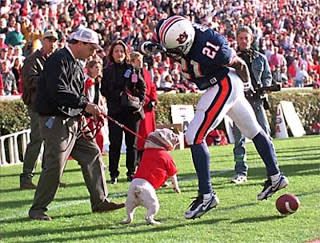 The Dawgs hope to continue last week's offensive surge versus the Auburn Tigers while the rest of Athens comes alive with its usual game day energy.
Friday, November 13th:
The Rialto Room at Hotel Indigo continues its "Rialto Bridge" series with recording artist Shawn Mullins. Mullins became an overnight success with his radio hit "Lullaby" after ten years playing in and around his native Atlanta. The Rialto Room will host two shows Friday evening at 7 and 9:30 p.m. Visit their website for more on Mullins and to buy tickets.
No need to wait until Saturday for some inter-SEC action, Auburn rolls into town on Friday afternoon for its first match up against the Dawgs at the UGA Equestrian Center. The meet begins at 3 p.m. UGA volleyball takes on Kentucky at 7 p.m. at the Ramsey, with a second SEC match on Sunday afternoon versus the Tennessee Volunteers.
Saturday, November 14th:
Fresh off their homecoming win, the Dawgs look to defeat the rival Auburn Tigers. Be between the Hedges for the 7 p.m. kickoff or catch the game on ESPN2!
Sunday, November 15th:
The Athens Symphony Orchestra celebrates its 32nd year of free concerts with its Winter showcase. Enjoy the talents of these Athens musicians at the Classic Center this Sunday afternoon at 3 p.m. Admission is free with the possession of a ticket, which are available at the Classic Center box office. Visit the Symphony's website for more information about the musicians and past performances.
UGA Women's basketball hosts Oklahoma at Stegeman Coliseum at 2:30 p.m.
Aromas, the Five Points pub and wine bar, hosts its first Aromas Cask Ale Festival. The restaurant's front parking lot will be filled with tents featuring firkins ( a keg in the British sense of the word) from 10-12 of America's best craft breweries. Enjoy brews from Terrapin, Sweetwater, Bell's, Copper Creek, and more. Food items and live music will accompany the beer. The festival begins at 1 p.m. and lasts until every firkin is drained! Tickets are $30 and are available at the Aromas website.
Remember to keep an eye out for CVB staff members for a chance to participate in our fabulous giveaway mentioned below.
Enjoy the weekend and GO DAWGS!