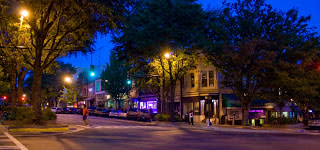 Check out great local theatre, great local food, and the inaugural "All Park Scavenger Hunt" throughout our local parks in Athens this weekend!



Friday


Saturday

All Park Scavenger Hunt

. Teams of 2-5 participants will be led to clues throughout all the parks in Athens. The first clue will be emailed out to everyone simultaneously. Prizes will be award to the top 2 teams. The hunt starts at 8 a.m. and registration is $10.
Teen Film Festival. Come out to see our local talents as films made by Athens teens are displayed on the big screen. The audience wil choose the winners. The event starts at 7 p.m. at the ACC Library.

The Athens Creative Theatre

presents

Bye Bye Birdie

at

Morton Theatre

at 7:30 p.m. Tickets are $15 (adults) and $12 (students, children, and senior citizens).
Slopfest. This event at

Little Kings Shuffle Club

begins at 5 p.m. and features performances by

'92 Dreamteam

,

Bodapop

,

Christophers Liver

,

Circle in Flight

,

Daffodil

,

Dead Dog

,

Die Benny

,

Jungol

,

Laminated Cat

,

Lazer/Wülf

,

Pride Parade

, and

Tendaberry

. The best part? Tickets are only $2.
Sunday

Murder Mystery Dinner Theatre:

"Until Death" at Buffalo's Southwest Café. The dinner begins at 7:30 p.m. Tickets are $35 and include dinner, champagne, and wedding cake.

Kenosha Kid

performs Steamboat Bill, Jr at

Cine

. Two chances to catch this show- at 4 p.m. ($8) or 7 p.m. ($10). Band leader Dan Nettles, Neal Fountain and Jeff Reilly, who is flying in from Los Angeles for tonight's performance, score Buster Keaton's silent film Steamboat Bill, Jr.

Opening reception for "Botanical Fantasy," at

the State Botanical Garden of Georgia

. The exhibit features contemporary brightly colored floral canvases by award-winning Southeastern artist Veva Dunckel. 1:30-3:30 p.m.