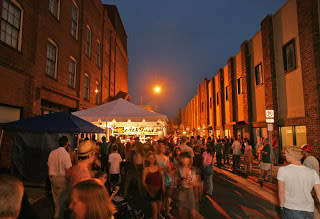 Whether you're heading to AthFest or looking for a break from the music scene, check out what's going on around Athens this weekend.



Friday



AthFest

. Bands, art, film, and KidsFest activities for the whole family! This is the best opportunity of the year to experience the local music and arts scene. Outdoor stages are FREE; wristbands are $20. So whether you bought a wristband (or won it!) or are just looking forward to the free shows, check out the complete schedule on the AthFest website. Highlights of the night include

The Incredible Sandwich

,

Dead Confederate

, and

The Black Lips

.
Looking for a more relaxed atmosphere? Check out

Kate Morrissey

at Two Story Coffeehouse. 8-10 p.m. Cover is $5

Move to Improve Block Party.

A block party in celebration of National Home Ownership Month featuring live music, a dunking booth, a moonwalk, hot dogs, face painting, workshops and more. Between Paris St. and Minor St. 4-7 p.m. Free.
Saturday
Athens Heritage Walks: Henderson Ave

. Tour Henderson Avenue with guide John Whitehead. This peaceful residential enclave amidst the bustling Milledge Avenue/Baxter Street corridors presents an attractive mixture of late-19th and early-20th century dwellings. 10 a.m.
AthFest. Stroll around the local booths before heading over to the main stage for perfomances by Futurebirds, Plume, and

The Interns

.
Inspired by the music at AthFest? Check out the vinyl record sale at the corner of Oconee and Carr. Features LPs, 45s and 78s. 9 a.m.–5 p.m
Sunday

AthFest. Highlights include the

Holman Autry Band

,

Dreams So Real

, and the Randall Bramblett Band.

Iron AthChef.

Love a good food competition? Head downtown to watch as two local chefs battle it out in a head-to-head cooking competition. West Washington street serves as "Kitchen Stadium" for Eric Wagoner of Athens Locally Grown and Craig Page of Promoting Local Agriculture and Cultural Experiences (PLACE). 5 p.m. Free.


Mountain Music Medicine Show

. Experience Doc Johnson's traveling Miracle Medicine Show, with musical acts and humor from the early 1950s. Set in Dahlonega, Doc promotes his "Wizard Water" elixir for improving lives. DISCOUNT for AthFest wristband holder. 8 p.m.
For more information on these events or to see more calendar listings, visit our website here.