What a wonderful weekend to be in Athens, Georgia! From grand re-opening celebrations to Athens' annual Wine Weekend festivities, there's no better place to be this weekend than the famous Classic City! 
We love a good party, and this is one you don't want to miss!
Pints and Paints
is celebrating its two-year anniversary and newly expanded location on Friday, February 1. With that said, it's time to grab all of your closest friends and prepare to enjoy live jazz music along with delicious appetizers and drinks. The celebration begins at 6:30 p.m., and admission is free! 
Athens Wine Weekend
is finally upon us, and tickets for the Grand Tasting and Sunday Brunch are still available. Featuring hundreds of wines from around the world and a feast of breads, sweets and meats, these exciting festivities make for an extraordinary weekend to remember. Two of the events have already sold out, so be sure to purchase your tickets for the remaining Saturday and Sunday events in advance!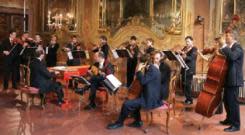 "I Love Rock n' Roll" is a song of the past as country music hits the Classic City scene.
Savannah River Production
kicks off its 2013 season at Morton Theatre with I Love Country: A Music Revue. This entertaining show features actors and actresses performing country classics from the Oakridge Boys, Johnny Cash, Patsy Cline and more. Sit back and enjoy the show on Saturday at 7:30 p.m. or Sunday at 3 p.m. 
More events...
Terrapin Brewery Tours - every Wed. - Sat., 5:30 - 7:30 p.m.
Friends First Friday
, Fri. 9 - 10:30 a.m. 
Harriet Tubman Play
, Fri. 9:30 and 11:30 a.m.
UGA Gym Dogs vs. Alabama
, Sat. 2 p.m. 
Want a complete list of all upcoming activities going on in Athens? Explore our event calendar at 
Visit Athens, Georgia
. Join the 
mailing list
 to stay in the loop about exciting events going on in the Classic City!