It's going to be one of those weekends in Athens, GA. You know, the kind of weekend with enough exciting events taking place around town for you to be able to customize your days specifically to your own interests. I suggest you start creating your itinerary now- so as not to miss the fun happenings going on in Athens, GA this weekend. There is: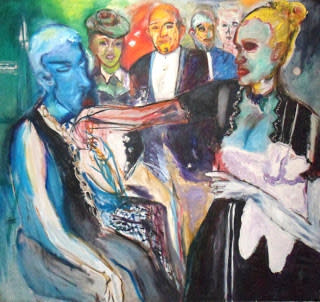 1) Art to be discussed; If you haven't yet had the chance to visit the first
Resident Studio Exhibition
at
ATHICA
, featuring 30 oil paintings by
Maxine Youngblood
, then it's time to get out there and check it out  in its final weekend. The exhibit's
Closing Reception
will take place
Sunday, July 24, from 4:00 p.m. to 6:00 p.m.
and will include an artist & curator Panel for open discussion and finally, a reception with the artist. Having not started creating art until the age of 52, Maxine Youngblood, now around 73 years old, nevertheless, creates vivid, rousing works of art. The 30 oil paintings being featured in ATHICA's Resident Studio exhibit are of that same nature, bright, colorful, and passionate, often likened to the style of French and German Expressionism. Curator Lizzie Zucker Saltz and Assistant Curator Ashley Westpheling largely selected works that were figurative in nature- representing pop culture icons like Elvis, Marilyn Monroe, and Donald Trump, as well as other local artists, performers, and models. If you already had the pleasure of visiting this exhibit or will be visiting for the first time this weekend, be sure to remember to come out for the closing reception on Sunday to hear about the works from the artist and curators themselves! Open 1-6 p.m. Thursday- Sunday! For more information about ATHICA or the event, visit our
calendar listing
.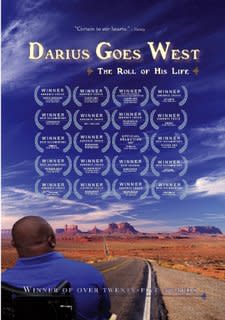 2) Music to be danced to; In its seventh consecutive year, the
Annual
Darius Goes West
Benefit Concert
will feature huge acts, such as Bubba Sparxxx and the Nappy Roots who will be accompanied by Georgia Gurlz and Elite Tha Showstoppa- doors open at 8:00 p.m. Saturday night at the 40 Watt. Tickets will be $10 in advance and anyone under 18 years old must be accompanied by an adult.
Darius Goes West: The Roll of his Life
 is an award winning documentary that followed Darius Weems, a teen with Duchenne Muscular Dystrophy, on a 7,000 mile journey across the U.S. to spread awareness about the fatal DMD disease and raise money for researching a cure. The film was widely praised and raised over one million dollars for research. Since the film, a
Darius Goes West Foundation
continues to spread awareness and raise money through events such as the one taking place in Athens, GA this weekend. Other
Darius Goes West Day
affiliated events taking place this weekend are: 
Dealing For Darius/ Casino For a Cure: Poker Tournament at Lucky Dawg Billiards, Thursday July 21 
Family Fun Night/ Carnival: The Body Shop of Athens, Friday, July 22, 5:00-9:00 p.m.
Darius Goes West screening: Cine, Saturday, 7:00 p.m. See trailer below-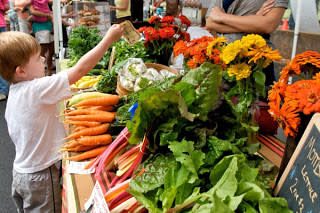 3) Local commerce to be supported;
The Athens Farmers Marke
t is still in full swing, all local produce and crafts at their freshest and finest, Saturday at Bishop Park from 8:00 a.m. to noon. Your beautiful morning of perusing the displays of the healthy produce and delightful crafts in the sun will be set to a Celtic soundtrack this Saturday morning as Repent at Leisure will play at 8:00 a.m., but the track will flip with the soul folk sounds of local singer/songwriter Kyshona Armstrong at 10:00 a.m. I know it'll be Saturday, but the Athens Farmers Market is worth setting your alarm for this weekend! For more information, check out our
event listing
.   
4) Theater to be enjoyed; Opening night of
The Circle Ensemble Theater
performance of
Metamorphoses
will take place Thursday and run through the Saturday night, July 21-23, beginning each night at 8:30 p.m. in the pool at Ashford Manor. The play transforms ancient myth and lore into contemporary language in a story that takes place completely in and around a large pool of water. This performance is sure to be one of the most interesting theatrical events of the summer! Read more about it on our
calendar listing
.