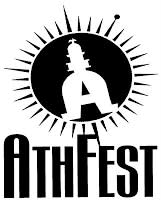 ATHFEST is finally here! Wahooo!!! I personally am SO excited for this weekend, and there are TONS of fun events going on (whether you're interested in music or not).
For the music fan, here are the AthFest events that I think everyone should make an effort to go to:
Thursday:
 
7:00 p.m. - Screening of
Of Montreal: Family Nouveau
at
Ciné
9:00 p.m. - You absolutely cannot miss the
AthFest Kickoff Party
at the beloved 40 Watt, featuring the Futurebirds, Roadside Graves, Ponderosa, and Immuzikation. This is going to be an awesome way to get AthFest started off right. Be there, it's only $2!
Friday:
11:00 a.m. –
Athens Music History Tour!
Don't miss it!  
5:00 - 10:00 p.m. - Artists' Market near the Hull Street Stage Area
12:00 - 5:30 p.m. - KidsFest on Hull Street
1:00 p.m. - Half Dozen Brass Band on the Pulaski Stage!
5:00 p.m. – Futurebirds on the Pulaski Stage!
9:00 p.m. -
Nuçi's Space
will be home to the only all-ages later show during this year's AthFest weekend. Also at 9 is
Perpetual Groove
on Pulaski Stage
Sunday:
For more weekend events, click
here
. No matter what, if you're in Athens this weekend, you're sure to have a good time!