The weekend is finally here, and let's not forget that St. Patrick's Day is too! Athens, GA has several exciting events taking place this weekend. Between the St. Patrick's Day activities, exciting sporting events, and several other events for the entire family, we know you will have an amazing weekend here in the Classic City. So bring the whole family out for an exciting weekend, and don't forget to wear green! Here are a few of the events taking place in Athens this weekend:
This exciting celebration is guaranteed to be a good time! This

Annual Celebration

features 

 

a night of The Pogues music as performed by The Donner Party, The Knockouts & The Welfare Liners. The evening will begin with a special opening dance performances by the Drake School of Irish Dance.There will be reserved table seating available on the mezzanine level on a first come first serve basis. The event will be this Saturday at 7:00. Tickets are only $7 in advance and $10 at the door. You can get a reserved table for two for only $21, and a table for four will be $42. Tickets are on sale now, so make your St. Patrick's day one to remember!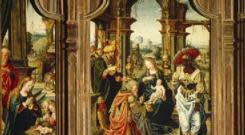 These Northern Renaissance Paintings from the Bob Jones University Museum and Gallery are making their first appearance as the sole focus of an exhibit. Designed as an intimate encounter with the devotional art of the 15th and 16th centuries,

"A Divine Light"

explores the ways in which Northern Renaissance artists expressed the central mysteries of the Christian faith through setting, pose, gesture and the objects of everyday life. This beautiful artwork will be on display this Saturday from Noon-5:00 p.m. at the Georgia Museum of Art. There is no admission fee, but there is a $3 suggested donation. 
This event is perfect for all of the brides to be! 

Put A Ring On It

is an exclusive luxury showcase of wedding vendors, in many categories, all hand-selected with the highest standards and are dedicated to offering our sophisticated modern Bride the highest caliber of service. Featuring many "One Day Only" promotions and other giveaways at the Georgia Center. This event will be Sunday from Noon to Five. Tickets will be $20 for the bride and groom and $15 for general admission. This event has everything you need for the wedding of your dreams. 
These are just a few of the events taking place this weekend in Athens,GA. We hope something has sparked your interest so far, but here are a few more exciting events:
Friday- Sunday: UGA Men's Baseball Game

 at Foley Field. Come cheer on the Diamond Dogs as they take on Tennessee! This will be Friday at

 7:00 p.m., Saturday at 3:00 p.m., and Sunday at 2:00 p.m.

Saturday: 

St. Patrick's Snake Day. Come and celebrate St. Patrick's Day by learning how to be green in your back yard and understanding the role of snakes in that environment at Bear Hollow Zoo. The event will take place this Saturday from 3:00-5:00 p.m. There will be no admission fee! This fascinating event is perfect for the entire family. 
Saturday:  Pattern and Palette in Print

 at the Georgia Museum of Art. 

A collaboration with undergraduate fabric-design students at UGA's Lamar Dodd School of Art, this exhibition takes as its inspiration Gentry magazine, with special emphasis on textiles and color. This will take place from Noon-5:00 p.m. with a $3 suggested donation fee. Come see the unique and beautiful artwork from some of the most talented students!