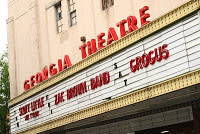 There is a lot going on this weekend in Athens! We've got great
UGA sporting events
, dance performances, and much more:
1.
Benefit for the Georgia Theatre Rehabilitation Fund at the 40 Watt
: This great concert Saturday night will feature Don Chambers and GOAT, Athens singer/songwriter Lera Lynn who will be celebrating the local release of her solo debut, and The K-Macks, and bluegrass BorderHop Trio. There will also be door prizes including Georgia Theatre Merchandise, artist CD's, and 1 pair of tickets to the sold out Avett Brothers concert March 29. Doors open at 8:30, music starts at 9 and tickets are only $6. Come out for a night of fun Athens music and support the rebuilding of the beloved Georgia Theatre! For more ways to help rebuild the Georgia Theatre visit www.georgiatheatre.com
2.
Closing Events for ATHICA's Taking Part Exhibition
: The Athens Institute for Contemporary Art has spent the last 6 weeks focusing on Taking Part: An Exhibit of Participatory Art Projects. This exciting exhibition concludes with its closing events on Sunday. Show your support at the curator and artist panel discussion, Localized Noise-Induced Transitions: The Athens Survey, and closing reception. Events begin at 3:30 and end at 6 p.m. All closing events are free of charge. For more information about the exhibit go to
http://www.athica.org/
3.
Mardi Gras 10k Race
: Bigger Vision Community Shelter and The Stable Foundation have come together to create an exciting Mardi Gras themed 10k race in Athens Saturday starting at 10 a.m. The race will start and end at Terrapin Brewing Company and will be followed with an awards ceremony, brewery tours, and live music. Race registration includes a t-shirt, tour of the brewery, and a Terrapin glass featuring the race's logo. This is one of the few 10k races in Athens and with a fun Mardi Gras theme and proceeds benefiting local charities it is sure to be a great experience! For more information visit
http://www.mardigras10kathens.org/
For a full list of events in Athens this weekend check out our
event calendar
.