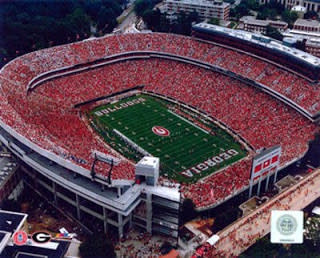 World-class musicians and high-quality football start October in Athens off with a bang.
Friday October 2nd:
B.B. King (yes, THE B.B. King) comes to the Classic Center this Friday evening. As one of the world's most identifiable guitar players, King mixes blues, jazz, swing, and pop music into his own unique sound. Don't miss the opportunity to see a music legend in our own backyard. Tickets range from $36-$86 and are available at the Classic Center's website. The show starts at 8 p.m.
The 2nd Annual Ecofocus Film Festival gives Athenians something to think about over the month of October. The festival features twelve environmental films and a diverse list of guest speakers from filmmakers to area experts. The featured films were chosen to push the boundaries of what it means to be "environmental". Hosted by Cine, the festival runs until October 25th. Tickets are $8 per evening showing, and $6 for a matinee. A complete list of the films and show times can be found at the event's website.
Joe T. is back in Athens. The Melting Point's weekly "Lunch with the Dawgs" gives fans a closer look at the former quarterback. The name Tereshinski is synonymous with Georgia football. Joe T. III became the fourth member of his family to play for the Bulldogs and was also part of the 2002 SEC championship team. The lunch starts at 11:30 a.m. Tickets are $8 advance and $10 at the door.
Saturday October 3rd
A visit from the #4 LSU tigers is sure to shake things up this Saturday, so be sure not to miss it! Play begins at Sanford Stadium at 3:30 p.m. and will be shown on CBS.
Sunday Ocotber 4th
UGA's Performing Arts Center brings a little taste of the Big Easy to Athens this Sunday afternoon. New Orleans' own Hot 8 Brass Band epitomizes New Orleans' street music, drawing upon the funk and energy of the city. The concert will be held at the Hodgson Concert Hall at 3 p.m. Tickets range from $19-$24 and are available at the PAC's website.
Enjoy another SEC match up this weekend when UGA volleyball hosts Ole Miss. Play begins at 1:30 at Ramsey.
GO DAWGS!