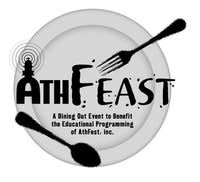 Here's the good word from Jared Bailey, director of AthFest.  What do you get when you add an "A" to AthFest?  Lots of delectable food!
Jared tells us:
Please let everyone know about AthFEAST! It is a dining event next Tuesday April 12th that benefits AthFest and our educational programs. All you have to do is go to our participating restaurants on Tuesday and have food and/or beverages and AthFest will receive a percentage of what you pay.
The restaurants are:
Breakfast:
Mama's Boy

Lunch:
Mama's Boy
,
DePalma's Downtown
,
Buffalo's Southwest Café

Dinner:
Ciné
and
The National
Dinner&Movie Combo, Speakeasy,
DePalma's Downtown
,
Buffalo's Southwest Café

Here is a a link to the Facebook event page for AthFEAST:
http://www.facebook.com/event.php?eid=207148069313259
 
Please send the info to all of your friends and plan to go to the participating restaurants that evening. If you get the chance let the restaurants know you are there to support AthFest. We want them to see tangible evidence that this event brought in customers.Thank you very much and bon appétit.
--Jared Bailey