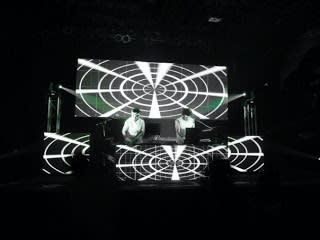 Very Disco, an Athens-based Daft Punk tribute band
There are few things that are more fun to me than going out dancing. Dancing is one of my favorite things to do in Athens, and I seek out dance halls when I'm traveling, too (I'm looking very forward to a 1980s music-video dance party, complete with a spring-loaded dance floor, in a couple of weeks when I visit Portland, Oregon). Of course, that means different things to different people. Some people like to dance with a partner, some people want frequent breaks from the action to chat with their friends. For me, I need anyone going out to dance with me to know that I take it very seriously: I don't appreciate interruptions and won't stop until the lights come up and the bartenders are shuffling people out the door.Lucky for me, I can get my fix several nights a week in Athens. I'm getting excited about a show Thursday night at the 40 Watt Club that promises to deliver the groove and I thought I'd put together a list of ways you can get your jam on, no matter your scene.
Am I missing out on a huge party somewhere? What's your favorite way to bust a move in Athens?